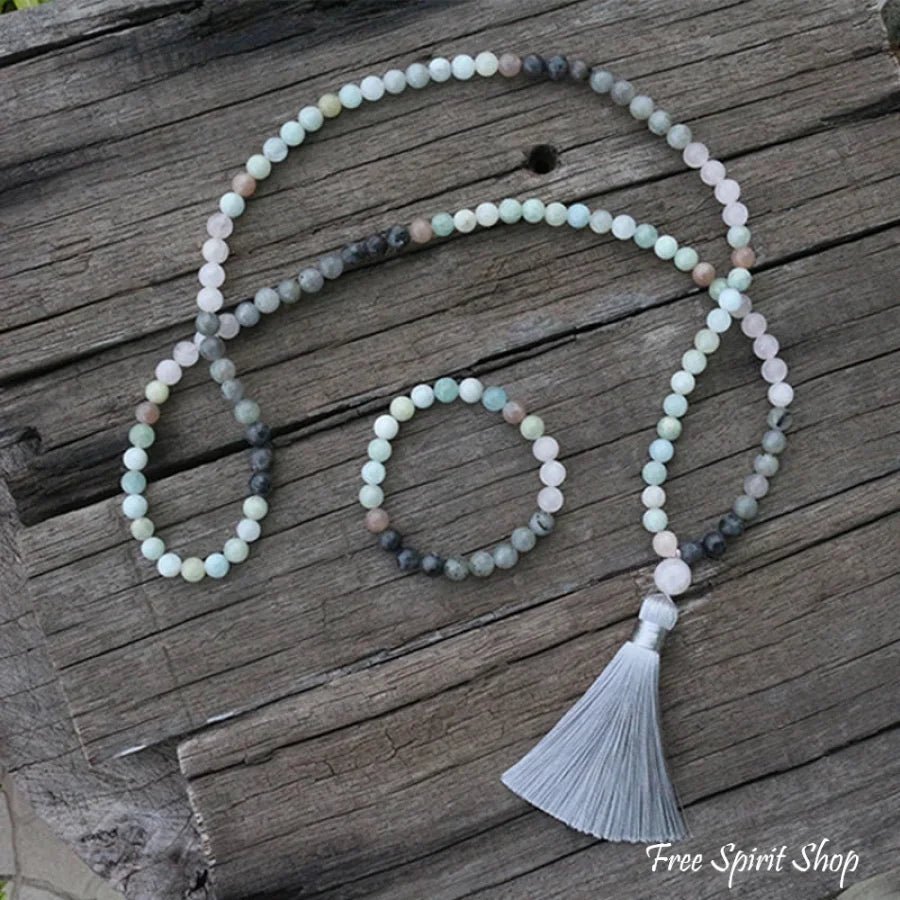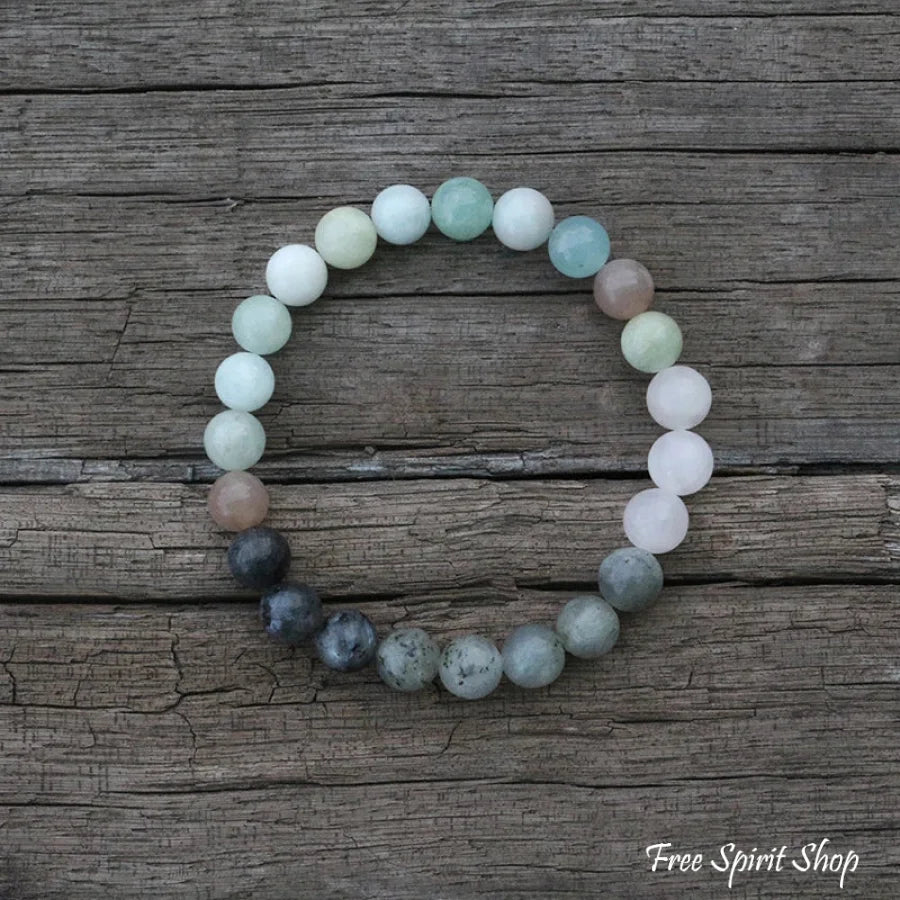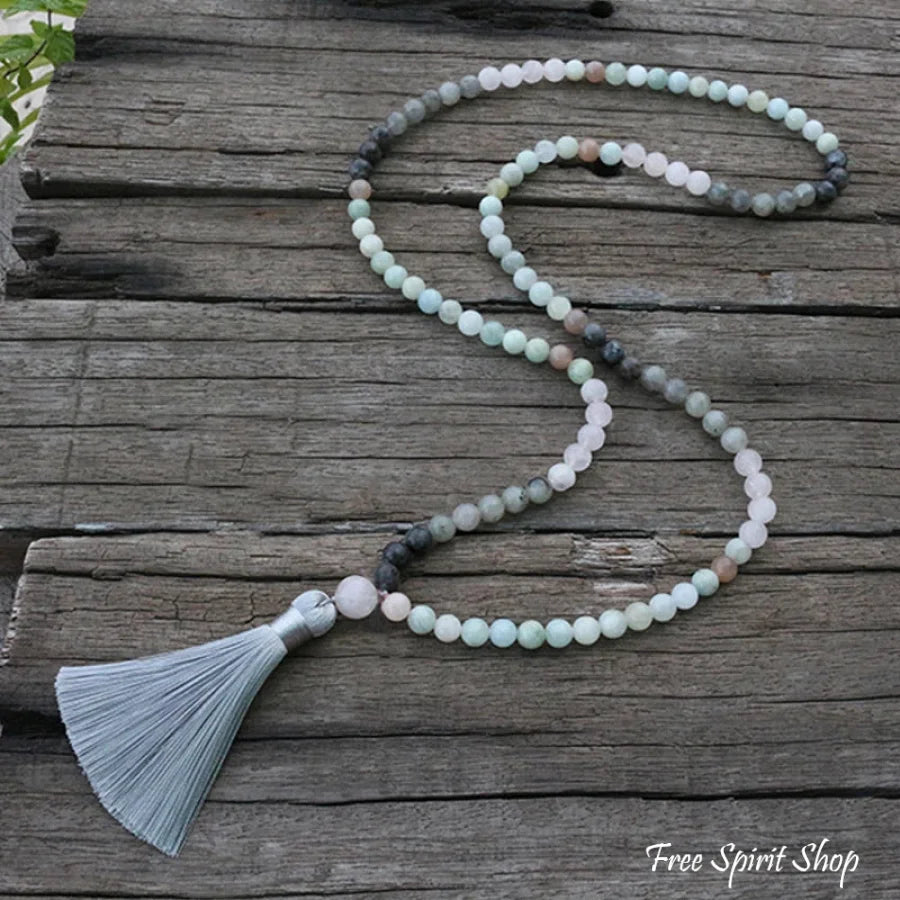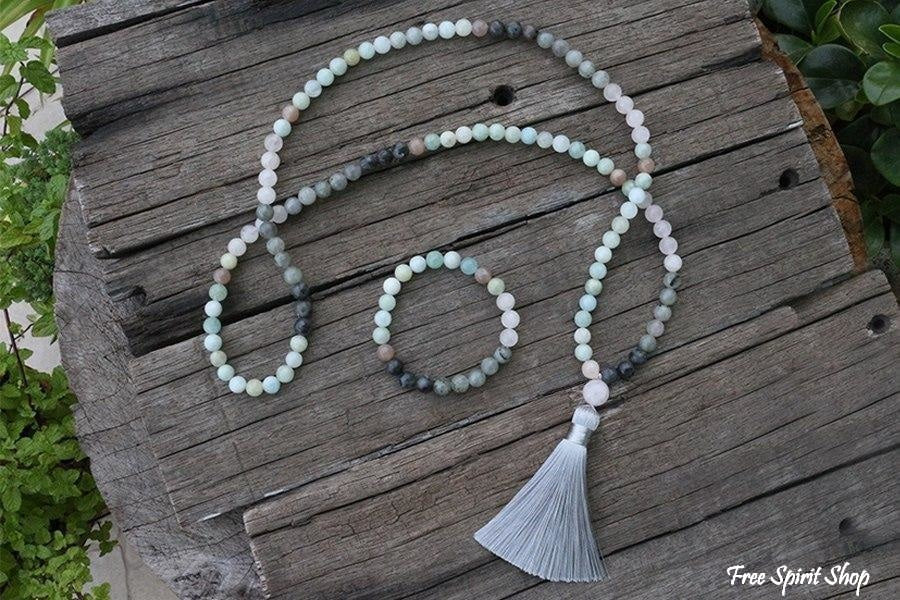 108 Natural Amazonite Labradorite Aquamarine & Rose Quartz Mala Necklace / Bracelet
This splendid Mala Prayer bead necklace is carefully handmade with 108 natural genuine Amazonite, Labradorite, Aquamarine and Rose Quartz gemstone beads. Your mala can be worn as a necklace or used for meditation. The beads are 8 mm. Length is about 33.4 inches (85 cm). Matching bracelet available as well (length is about 18 cm).  Make your selection between the necklace, bracelet or necklace & bracelet set using the drop-down menu above. 
Amazonite is a mint green to aqua green stone said to be of truth, honor, communication, integrity, hope, and trust. It is said to enhance intuition, psychic powers, creativity, intellect, and psychic ability. Amazonite is often associated with the throat chakra, and as such, said to be beneficial to communication. It is also associated strongly with the third eye chakra. It is said to align the physical and astral bodies. It is noted mystically to lessen stress and self-defeating behaviors by calming and building self-esteem. Amazonite is believe in crystal healing to heal emotional disturbances and the after effects of emotional trauma.
Labradorite is also the most powerful protector of the mineral kingdom, creating a shielding force throughout the aura and strengthening natural energies from within. It protects against the negativity and misfortunes of this world, and provides safe exploration into alternate levels of consciousness and in facilitating visionary experiences from the past or the future. 
Aquamarine is the stone that will help you be in touch with your spiritual being. This stone is used in deep meditations. It has been called "Water of the Sea", because of its color. Aquamarine is calming, soothing, and cleansing, and inspires truth, trust and letting go. In ancient lore, Aquamarine was believed to be the treasure of mermaids, and was used by sailors as a talisman of good luck, fearlessness and protection. It was also considered a stone of eternal youth and happiness.
Rose Quartz is the stone of unconditional love. One of the most important stones for Heart Chakra work, Rose Quartz opens the heart to all types of love - love of self, love of family, love of friends, romantic love. Because it is a type of quartz, Rose Quartz does have a high energy, but its vibe is also calming and soothing.The soothing energy of Rose Quartz fosters empathy, reconciliation, and forgiveness of others. Lowering stress and tension in the heart, Rose Quartz clears out anger, jealousy, and resentment of others, and allows healing of heart issues and dis-ease associated with holding on to such negative emotions.
Malas are used for keeping count while reciting, chanting, or mentally repeating a mantra or the name or names of a deity. This sādhanā (practice) is known in Sanskrit as japa. Malas are typically made with 18, 27, 54 or 108 beads.