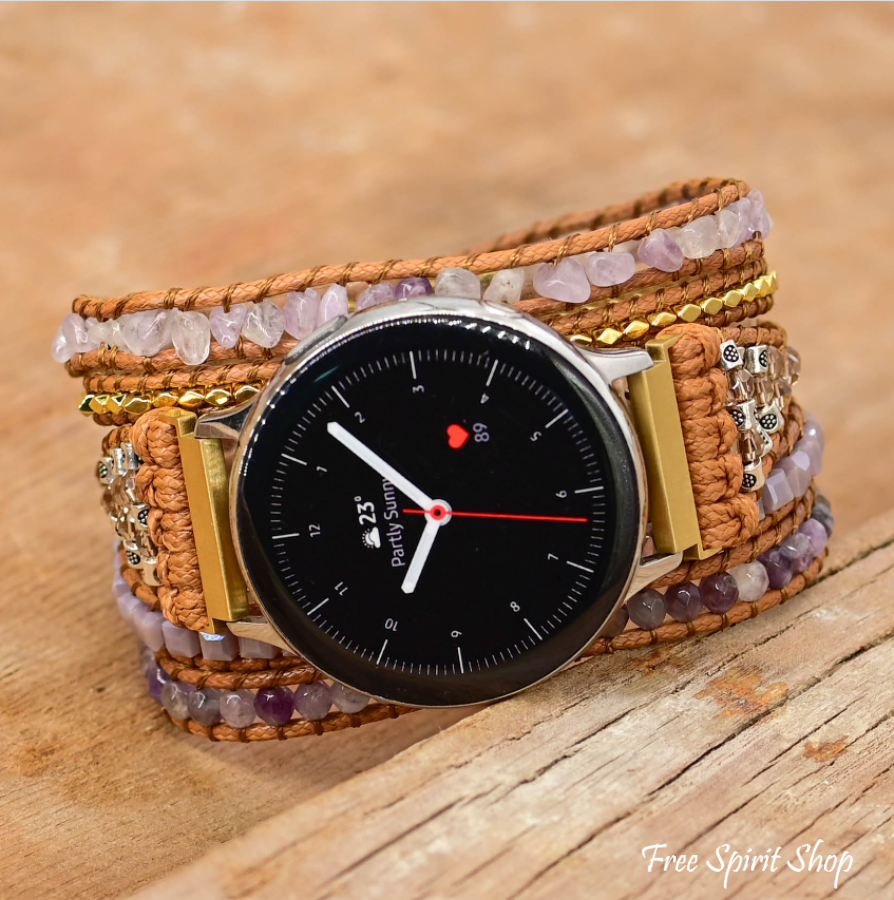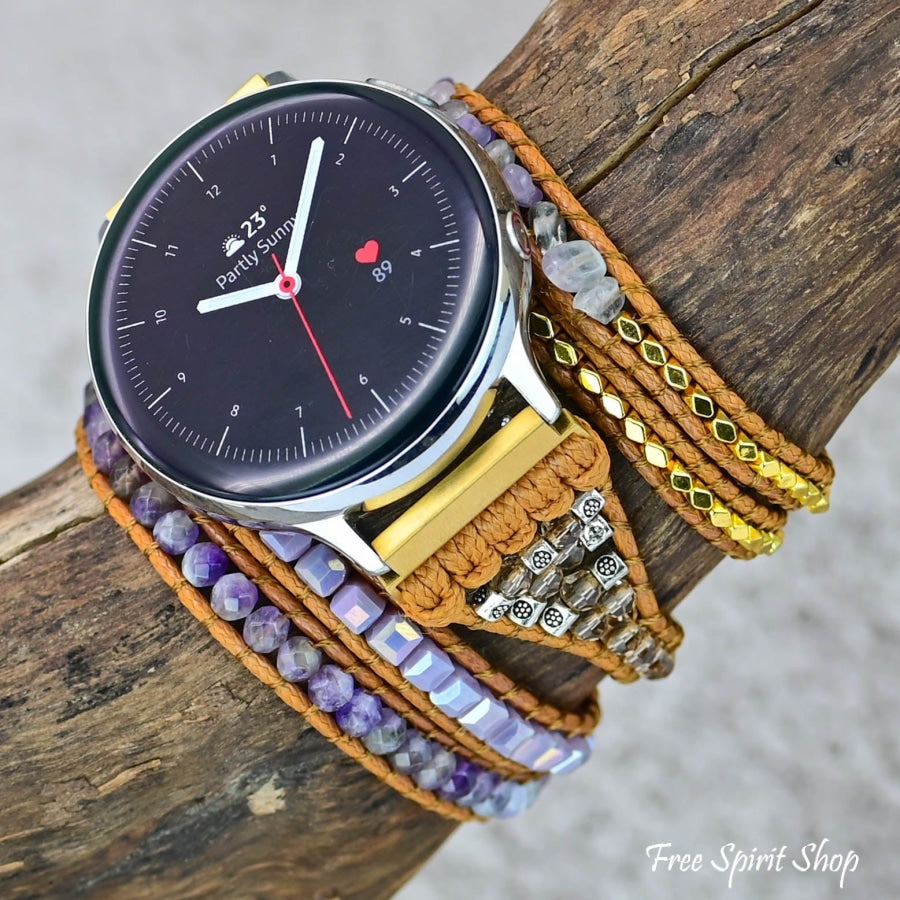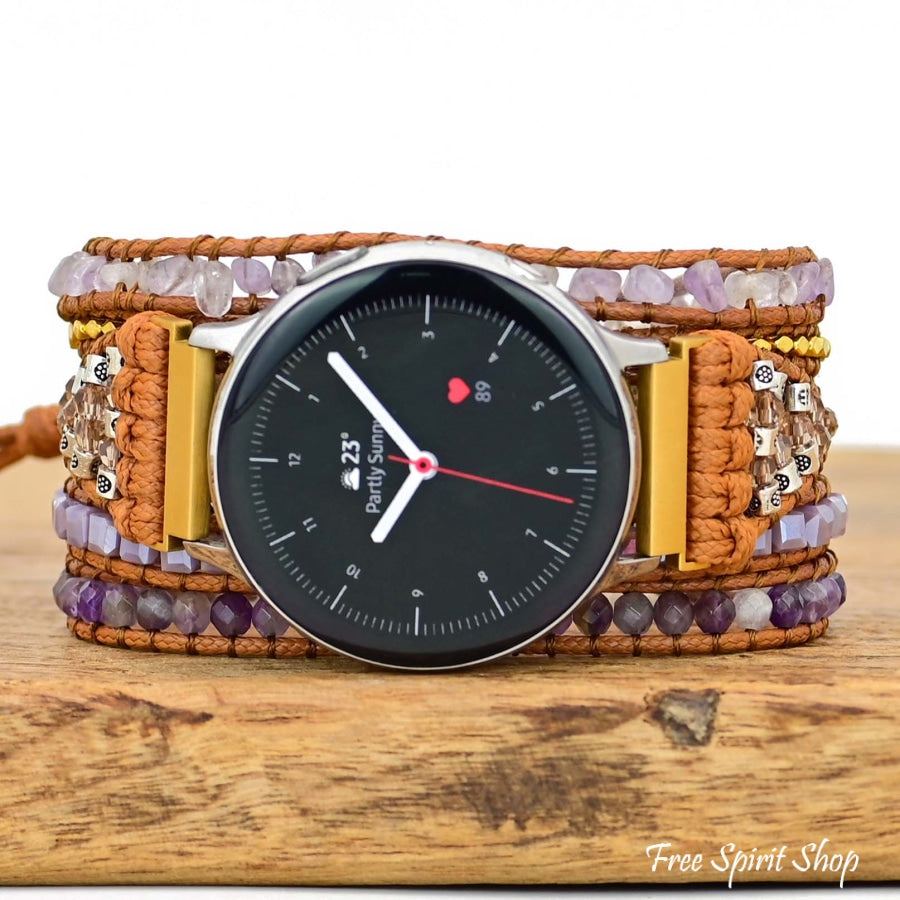 Amethyst Beaded Samsung / Garmin Watch Band
Watch Connector Size:
18mm
Size:
Medium: 6.3-7.2 inch wrist
 This splendid Samsung watch band is beautifully handmade with Amethyst beads. Three sizes available: small, medium, large and each size is adjustable. Vegan friendly! Also compatible with Garmin, Fossil and more smartwatches!
Pick your wrist size and watch connector size.
Samsung Galaxy 4 / 5 / 6 compatible with:
Samsung Galaxy 4

Samsung Galaxy 5
Samsung Galaxy 5 Pro
Samsung Galaxy 6
18mm compatible with:
Fossil Gen 4 - Venture HR
Fossil Gen 5E
Fossil Gen 6 (Womens)
Fossil Gen 6 - Stella
Fossil Sport 41mm
Garmin Forerunner 255S, Music
Garmin Venu 2S
Garmin Vivoactive 4S
Garmin Vivomove 3S
20mm compatible with:
Garmin Forerunner, 55, 245, 645
Garmin Move Style, Move Luxe
Garmin Venu, Venu 2 Plus
Garmin Venu Sq
Garmin Vivoactive 3, Venu, Trainer, Music
Garmin Vivomove 3
Garmin Vivomove HR 
Garmin Vivomove Sport
Garmin Vivomove Style
Samsung Galaxy Watch 3 (41mm)
Samsung Galaxy Active and Active 2 (40mm, 44mm)
Samsung Galaxy Watch (42mm)
Samsung Gear S2 Classic,
Samsung Gear Sport 
Samsung 

Galaxy Watch 4

Fossil Q Glazer
22mm compatible with:
Garmin Darth Vader/ First Avenger
Garmin Fenix Chronos
Hero Legacy 45mm
Garmin Runner 255
Garmin Vivoactive 4 (not compatible with the 4S)
Garmin Venu 2
Samsung Galaxy Watch 3 (45mm)
Samsung Galaxy Watch (46mm)
Samsung Gear S3 Classic, Frontier
Fossil Gen5 Carlyle / Julianna / Garret / Carlyle HR
Fossil Hybrid Smartwatch HR
Fossil Hybrid Smartwatch Neutra
Fossil Men's Gen4 Explorist HR
Fossil Sport 43mm
Xiaomi Color Watch
LG W100, LG W110, LGW150
Amethyst has healing powers to help with physical ailments, emotional issues, and in Energy Healing and Chakra balancing. Amethyst crystal therapies are primarily associated with physical ailments of the nervous system, the curing of nightmares and insomnia, and balancing the crown chakra. It is a powerful and protective stone that helps relieve stress and strain, soothes irritability, balances mood swings, dispels anger, rage, fear and anxiety. It calms and stimulates the mind, helping you become more focused, enhancing memory and improving motivation.