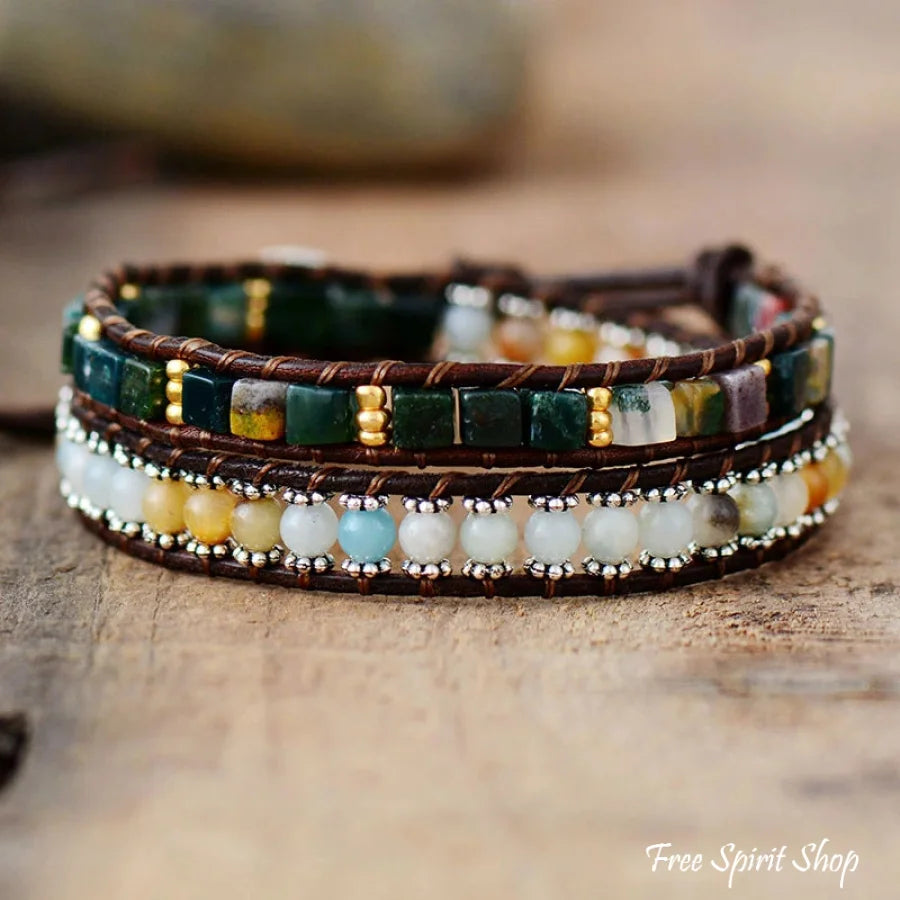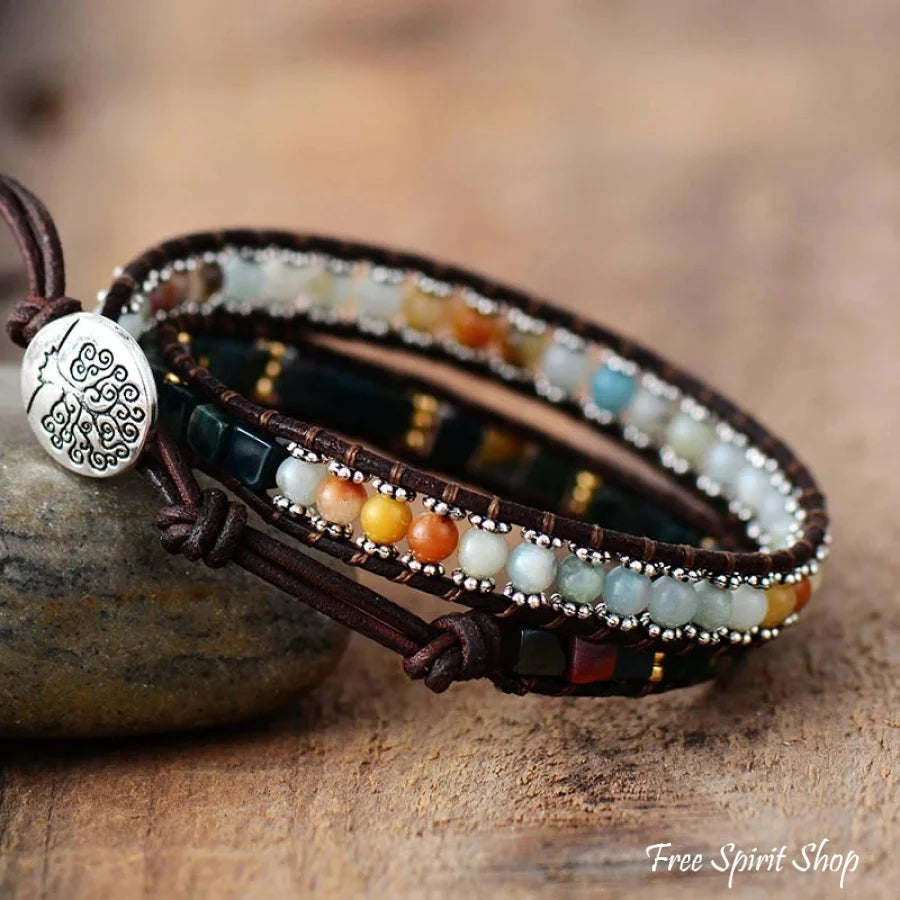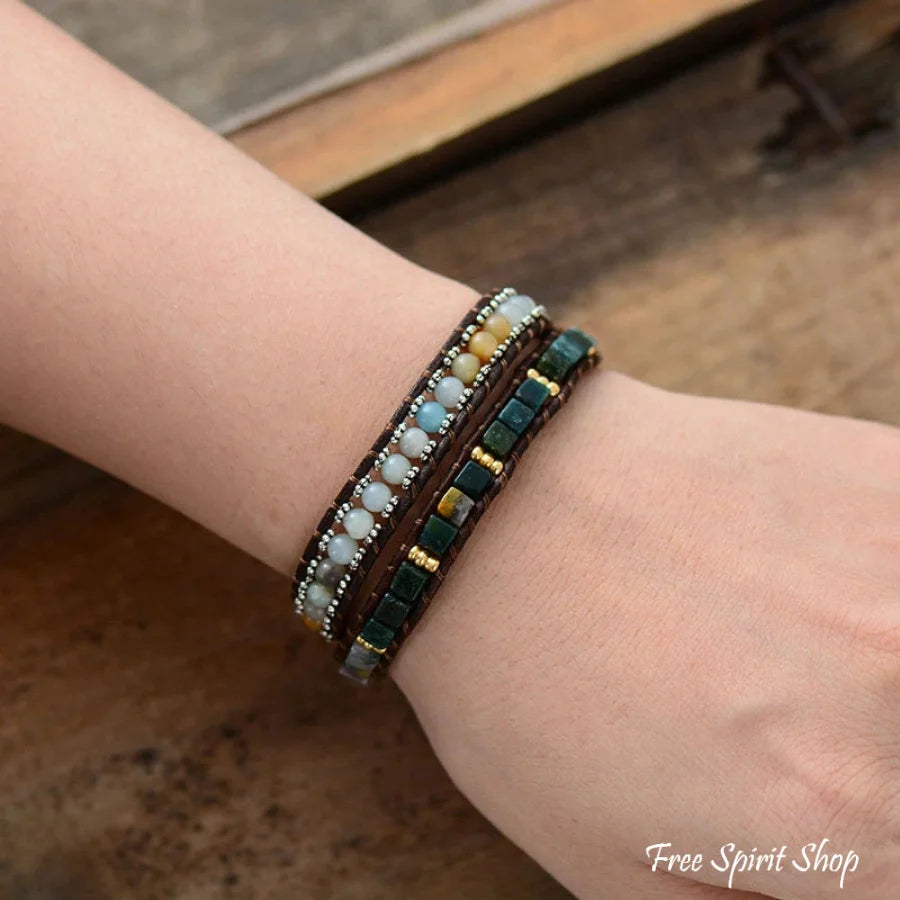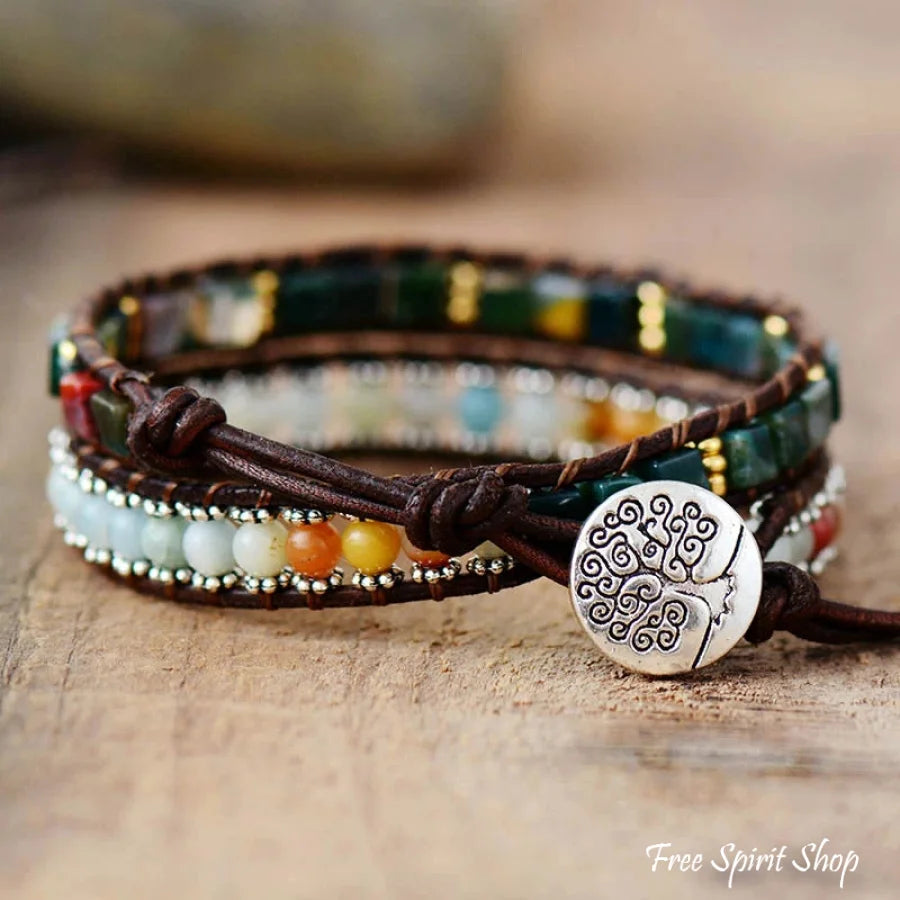 Handmade Natural Amazonite & Onyx Leather Wrap Bracelet
Bring inner peace and positivity into your life with our wonderful Amazonite and Onyx wrap bracelet. This splendid leather wrap bracelet is beautifully handmade with natural Amazonite and Onyx gemstones. The charm represents the Tree of Life symbolizing wisdom, strength and protection. The wrap is made with genuine leather. Size is approximately 13 inches (33 cm) and is adjustable through the two different clasps.
♡ To our Vegan community: our gemstone wrap bracelets can be made with cord on request. ♡
Amazonite is a mint green to aqua green stone said to be of truth, honor, communication, integrity, hope, and trust. It is said to enhance intuition, psychic powers, creativity, intellect, and psychic ability. Amazonite is often associated with the throat chakra, and as such, said to be beneficial to communication. It is also associated strongly with the third eye chakra. It is said to align the physical and astral bodies. It is noted mystically to lessen stress and self-defeating behaviors by calming and building self-esteem. Amazonite is believe in crystal healing to heal emotional disturbances and the after effects of emotional trauma.
Onyx is a great stone which helps to get rid of all negative perceptivity. It helps to you to move forward from all kind of sorrow, grief, depression. It improves your self-confidence. Onyx is popularly used to improve eye, hair, nail, kidney and system. The most important part is Onyx has the ability for opening the chakras.
The Tree of Life is a universal symbol found in many spiritual and mythological traditions around the world. In various cultures it is known as the Cosmic Tree, the World Tree and the Holy Tree. The Tree of Life symbolizes many things, including wisdom, protection, strength, bounty, beauty, and redemption. This wise and holy Tree is like the Creator as it sustains creation with its abundant fruit, protection and generativity.
*Since gemstones are natural materials and each is unique (just like you ♡) items may vary slightly in colour and shape.