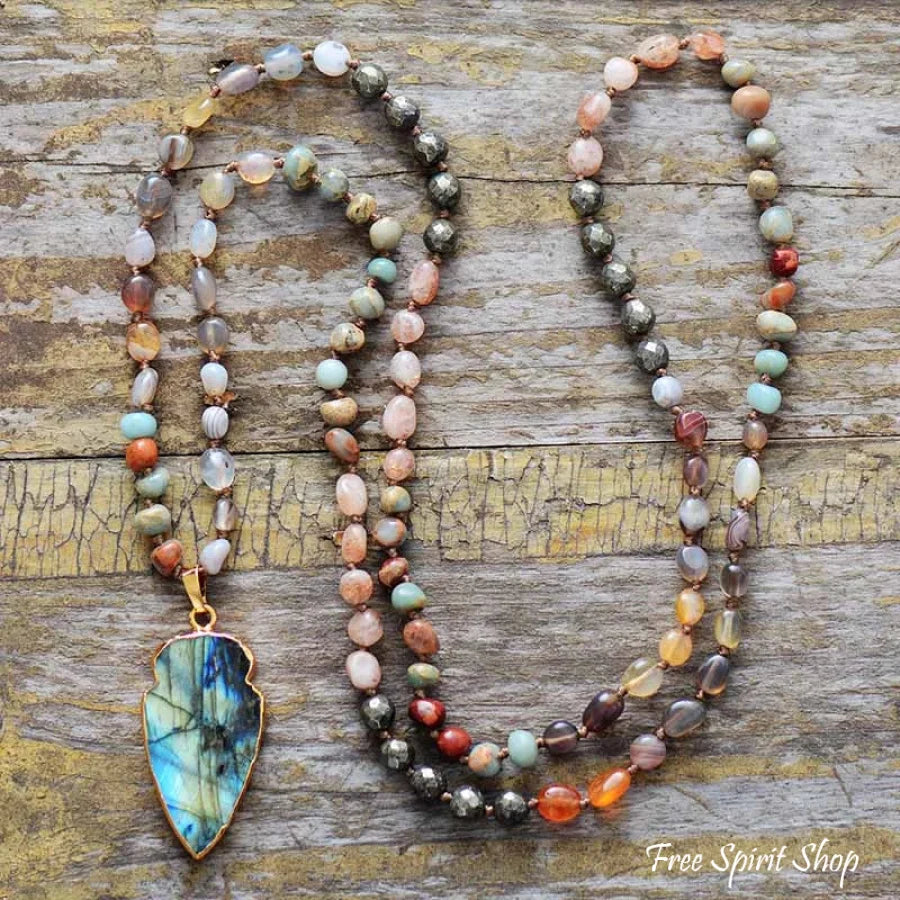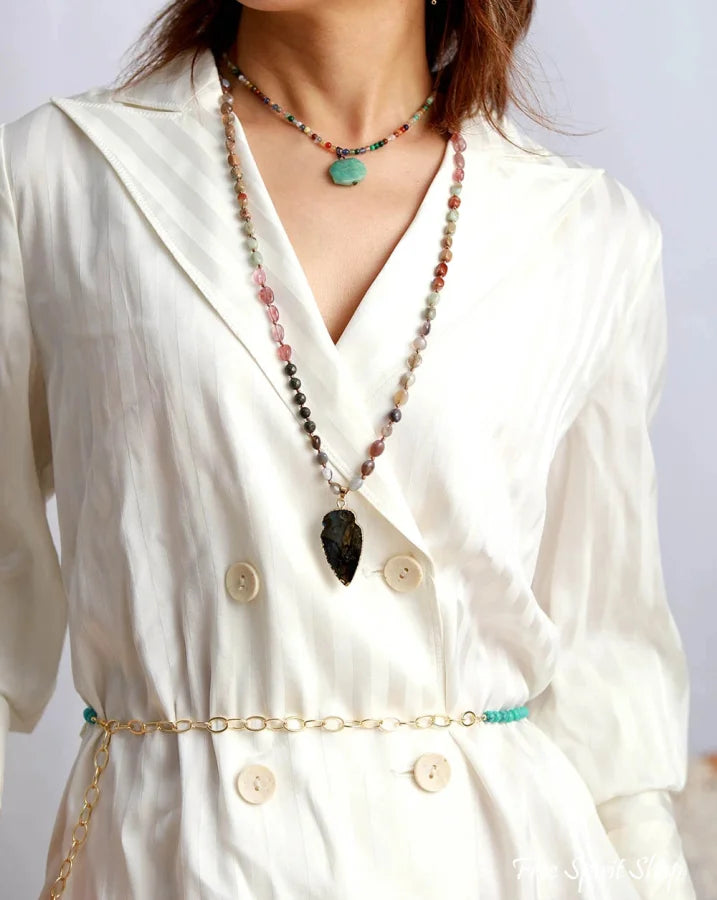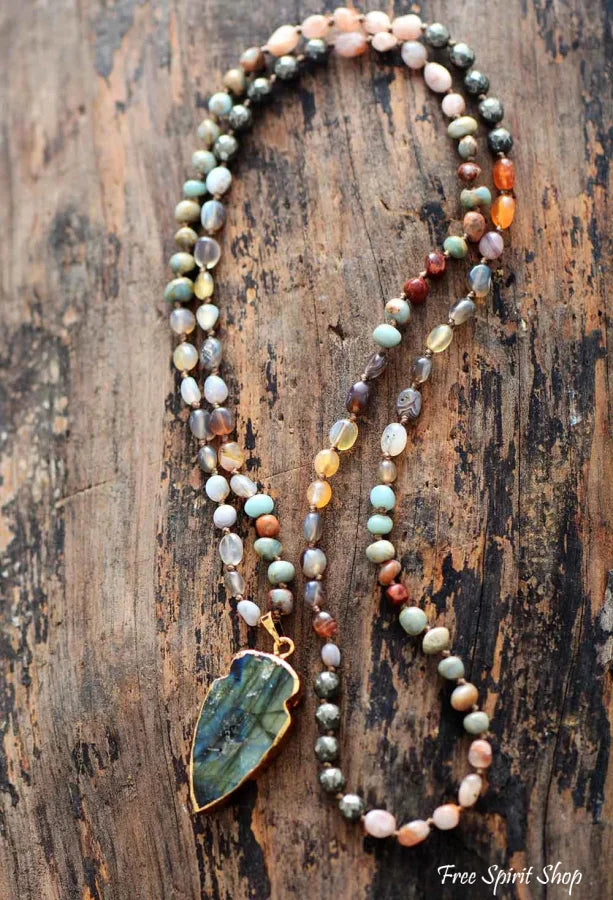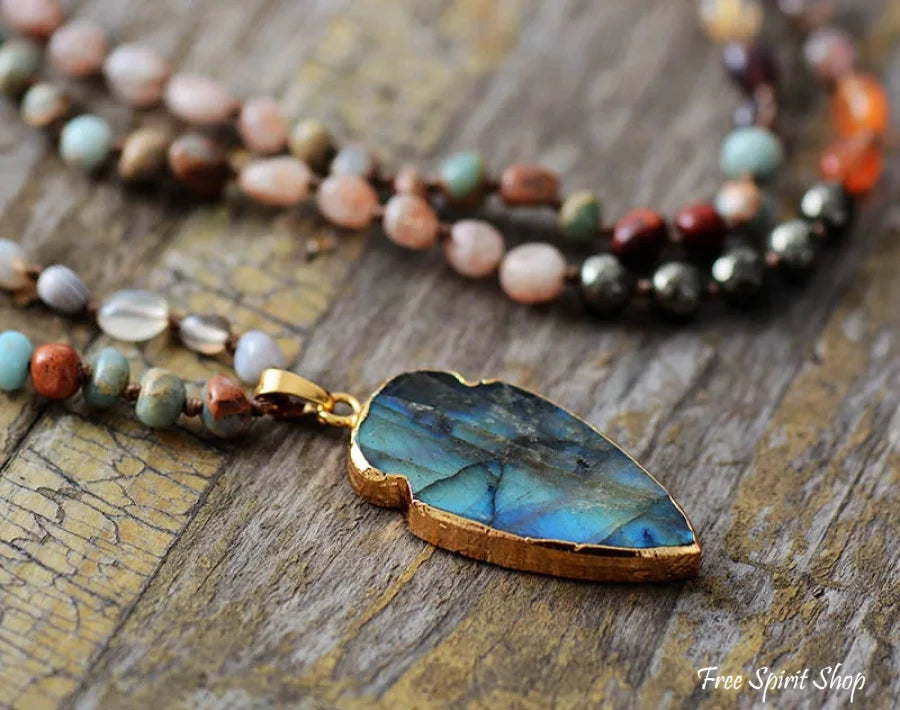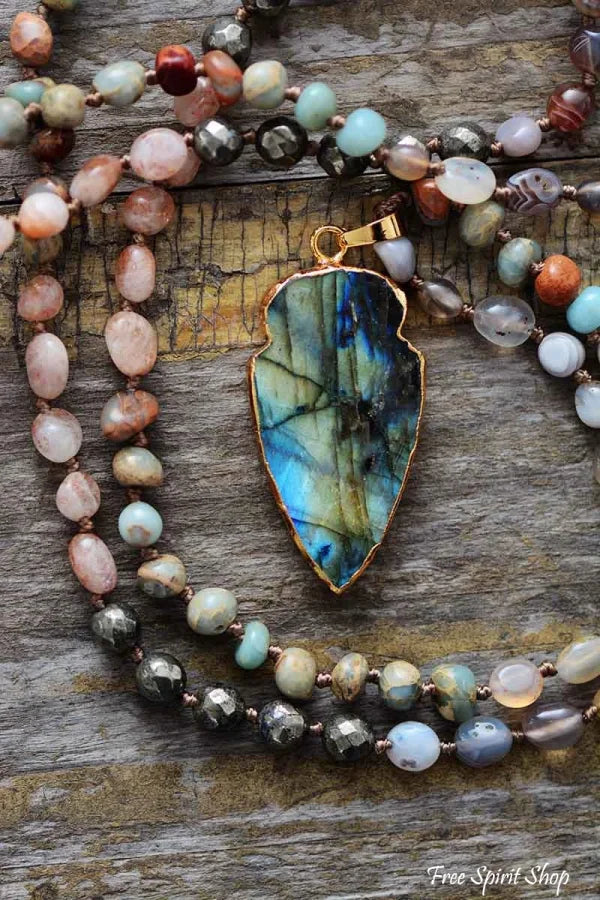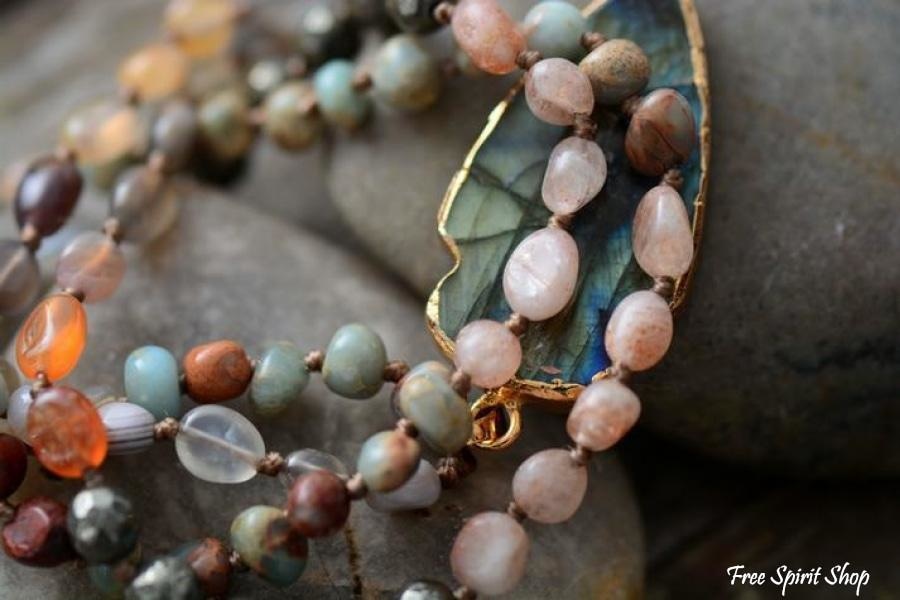 Handmade Natural Strawberry Quartz & Pyrite Necklace with Labradorite Pendant
This splendid Free Spirit Necklace is carefully handmade with Natural Semi Precious Strawberry Quartz, Boswana Agate, Pyrite and Jasper stone beads.  It features a natural Labradorite Stone arrowhead pendant. Length is approximately 31.5 inches. This necklace is handmade with natural stones, because of that the shape and color of the beads and pendant might be slightly different than on the picture ; this is what makes this necklace unique, just like you!
The meaning of jasper stone is in the essence of its energy. Jasper is a very nourishing, warm and protective stone no matter what colour you find the jasper in - be it yellow, green, blue, purple or the deep earthy red. Jaspers are the nurturers, the healers and the spirit stones of courage and wisdom. They all carry a strong connection to the Earth's energy, making the jasper healing properties very beneficial for grounding, stability and strength.
Agate is an excellent stone for rebalancing and harmonising body, mind and spirit.  It cleanses and stabilises the aura, eliminating and transforming negativity.  Agate enhances mental function, improving concentration, perception and analytical abilities.  It soothes and calms, healing inner anger or tension and creates a sense of security and safety.
Labradorite is also the most powerful protector of the mineral kingdom, creating a shielding force throughout the aura and strengthening natural energies from within. It protects against the negativity and misfortunes of this world, and provides safe exploration into alternate levels of consciousness and in facilitating visionary experiences from the past or the future. 
Carrying Strawberry Quartz can be soothing and calming for someone who works in a fast-paced environment. ... Strawberry Quartz is a great facilitator of gaining hidden knowledge. Hold Strawberry Quartz as an aid/companion during meditation or journeying.
Traditionally, Pyrite is known as a stone of luck, helping to attract abundance, wealth and prosperity to the user. Pyrite not only deflects negative energies, but also helps to release negative and inhibiting patterns of behavior. Pyrite can enhance one's will during challenging times and supports the action necessary for personal growth and success. Meditation with Pyrite can encourage greater frequency in moments of inspiration, and its grounding action allows these higher frequencies to be grounded into the physical world.