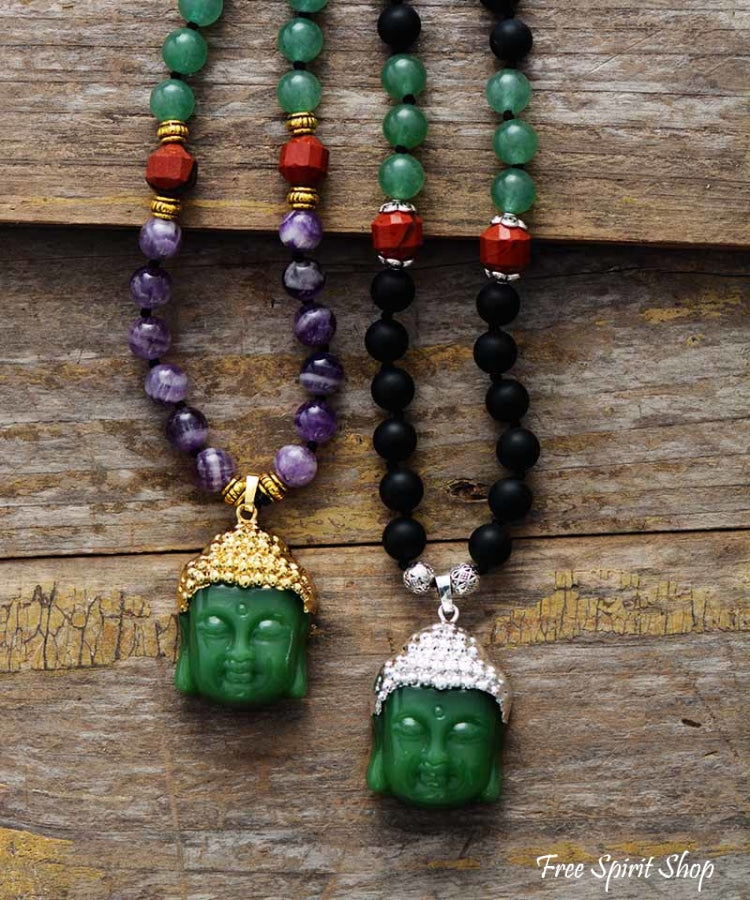 Natural Black Onyx & Green Jade Buddha Pendant Necklace
This splendid hand-knotted mala bead necklace is carefully handmade with natural genuine Black Onyx, Red Jasper & Sodalite gemstone beads. It features a stunning Green Jade Buddha head pendant.  Your mala can be worn as a necklace or used for meditation.  Length is about 32 inches (83 cm). Amethyst option available in the dropdown menu above.
Black Onyx is a powerful protection stone that absorbs and transforms negative energy, and helps to prevent the drain of personal energy. Black Onyx aids the development of emotional and physical strength and stamina, especially when support is needed during times of stress, confusion or grief.
The healing properties of jade are very useful for emotional healing. The soothing energy from jade relieves irritability while helping to eliminate negativity.  It's mainly considered as a symbol of serenity, tranquility, and purity. It's a stone that's believed to bring in good luck, friendship, peace, and harmony. The green jade is often used for cleansing and balancing the 7 chakras.