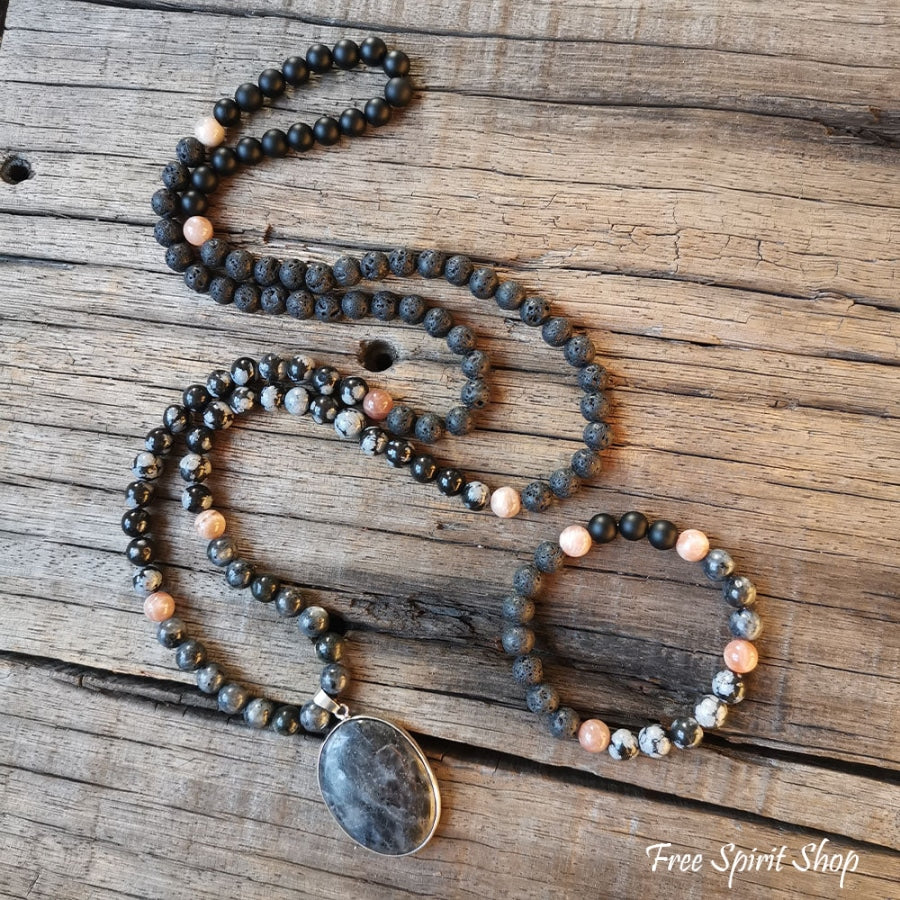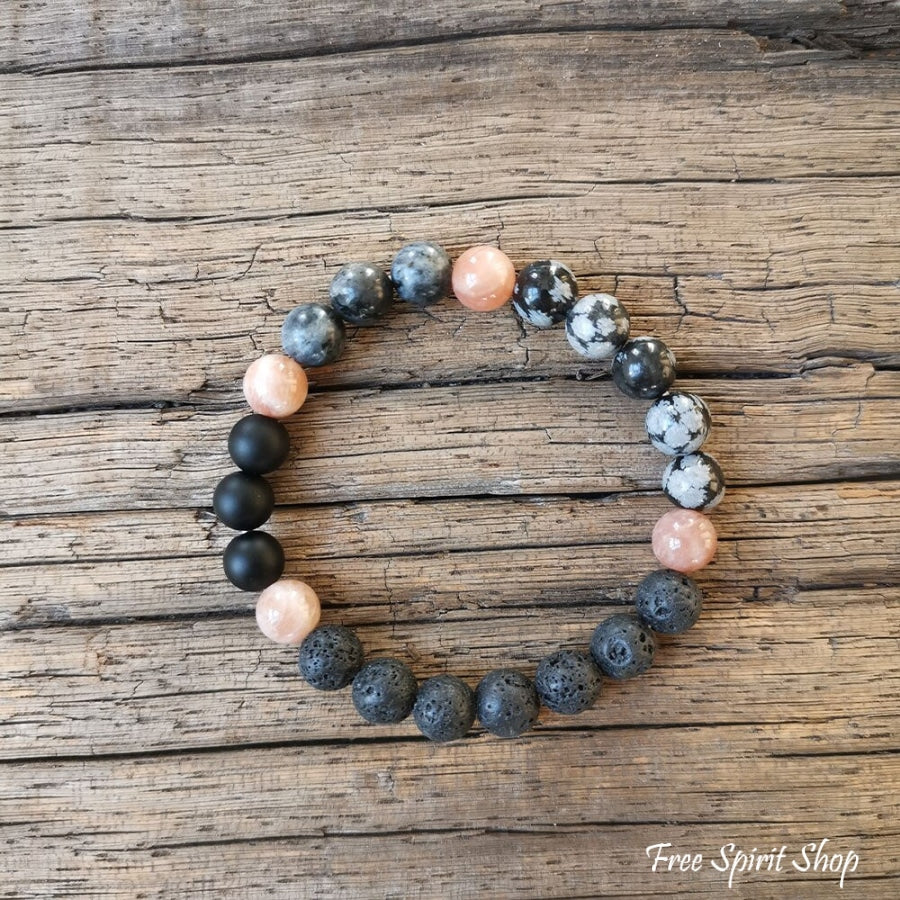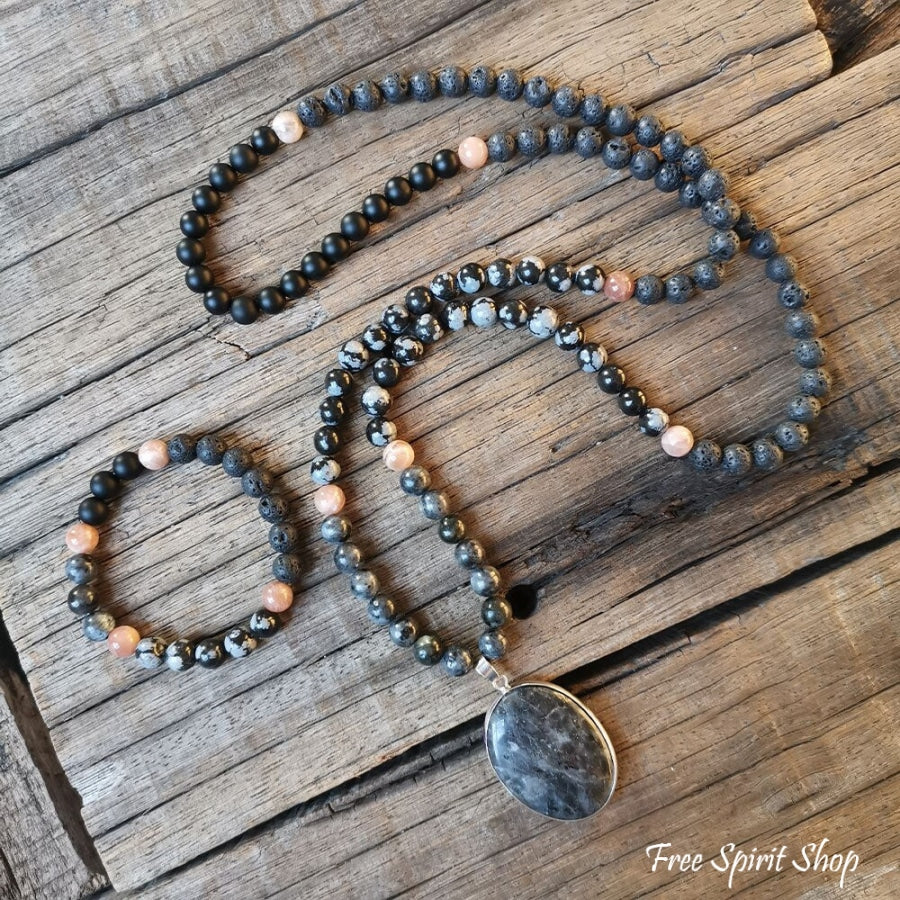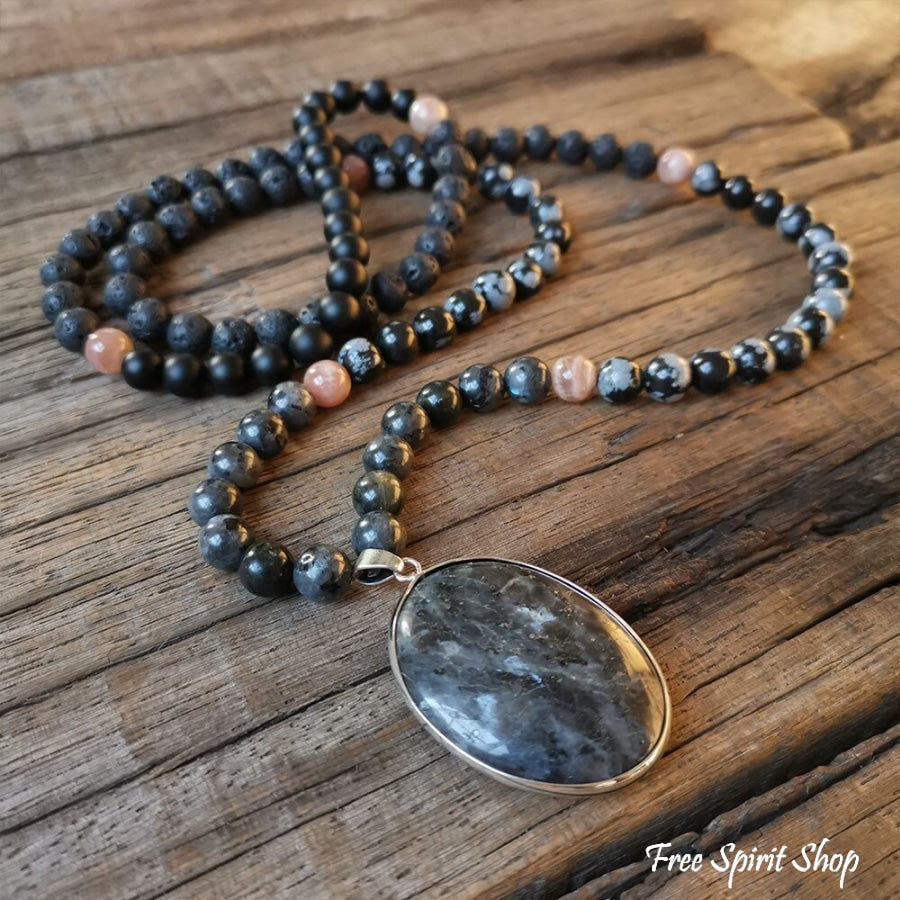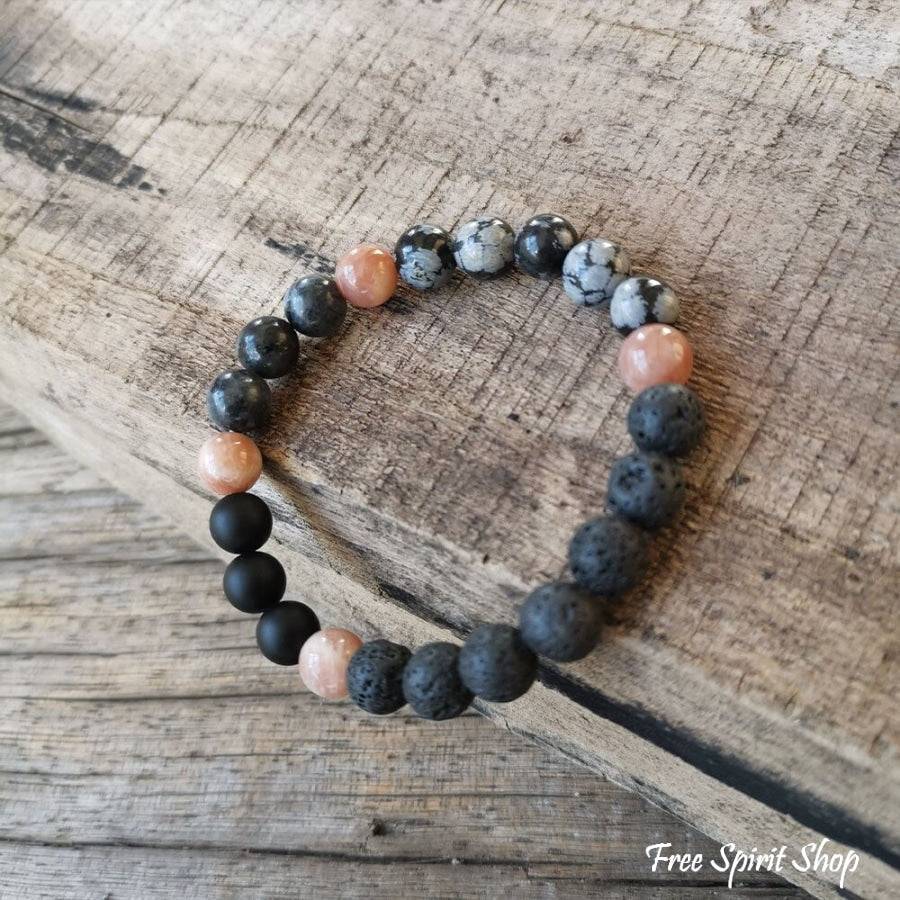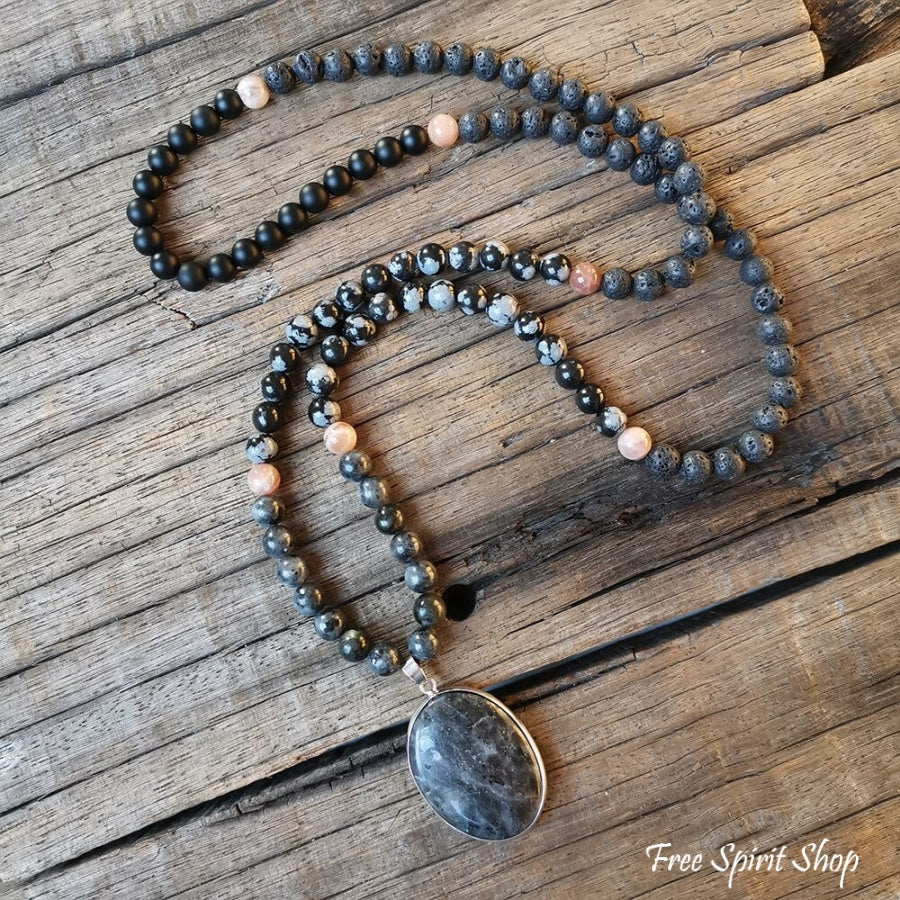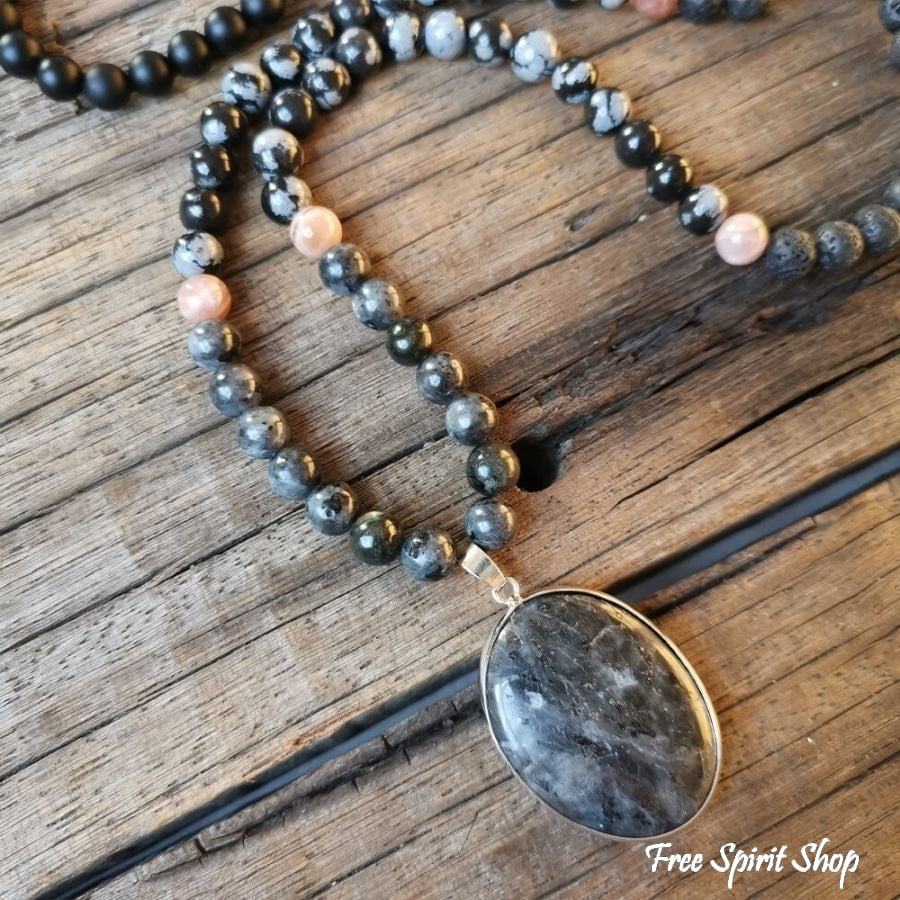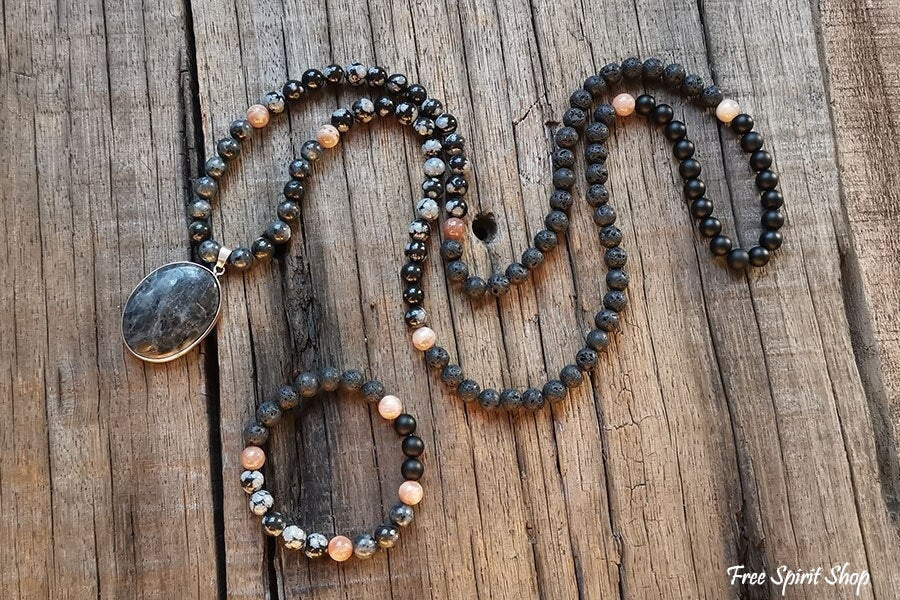 108 Natural Black Lava Stone Snowflake Obsidian Sunstone & Labradorite Mala Bead Necklace
This splendid mala prayer bead necklace/bracelet is carefully handmade with 108 natural Snowflake Obsidian, Black Lava stone and Sunstone gemstone beads. It features a beautiful Black Labradorite pendant. The beads are 8 mm in size. Your mala can be worn as a necklace or used for meditation and prayer. Length is about 37 inches (90 cm). Bracelet size is 18 cm. Make your selection between the necklace, bracelet or necklace & bracelet set in the menu above. 
Snowflake Obsidian is a stone of purity. It balances mind body and spirit. Placed on the sacral hara chakra, snowflake obsidian will calm and soothe and allow you to view unhealthy patterns in your own behaviour, thus opening the door to change. It is considered a good detoxification stone.
Sunstone is a gemstone that promotes positive energies and joy. It brings light into dark thoughts, clears negative energy and bring mental clarity. Sunstone is a gentle healing stone that promotes a warm and positive mindset while boosting self-esteem and vitality. It is a natural anti-depressant.
Labradorite is the most powerful protector of the mineral kingdom, creating a shielding force throughout the aura and strengthening natural energies from within. It protects against the negativity and misfortunes of this world, and provides safe exploration into alternate levels of consciousness and in facilitating visionary experiences from the past or the future. 
Since lava is known for its grounding qualities, it's wonderful for calming the emotions. In fact, the quality of fire springs from the ground, so in terms of healing gems, this lends itself to a calming- but intense- energy. Because it comes from raw energy, it's considered to be a stone of rebirth and shedding unneeded layers of emotional attachment. Lava stones are also fantastic for stabilizing and grounding the root chakra. 
Mala prayer beads are used for keeping count while reciting, chanting, or mentally repeating a mantra or the name or names of a deity. This sādhanā (practice) is known in Sanskrit as japa. Malas are typically made with 18, 27, 54 or 108 beads.