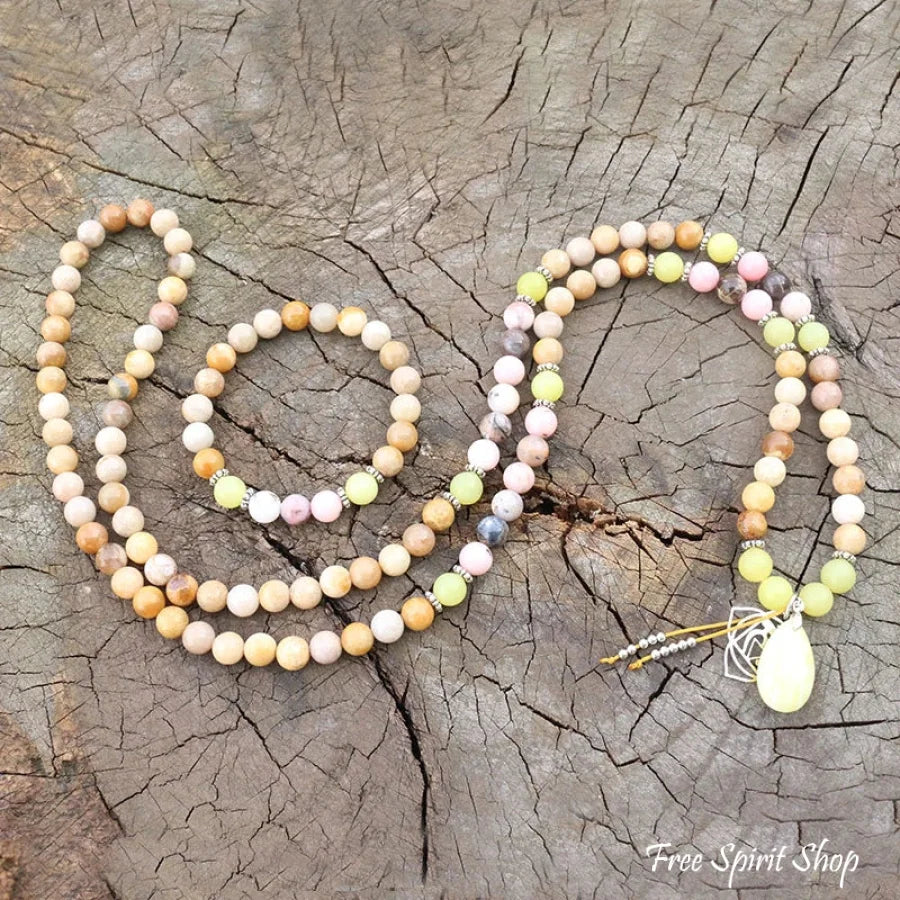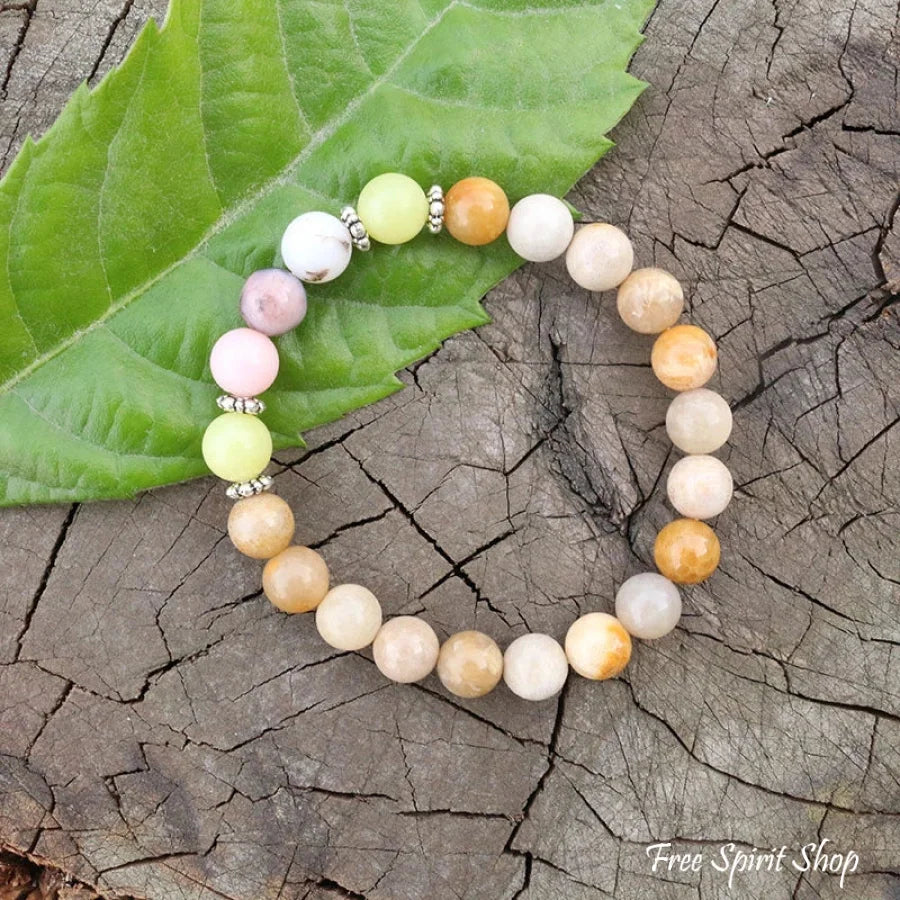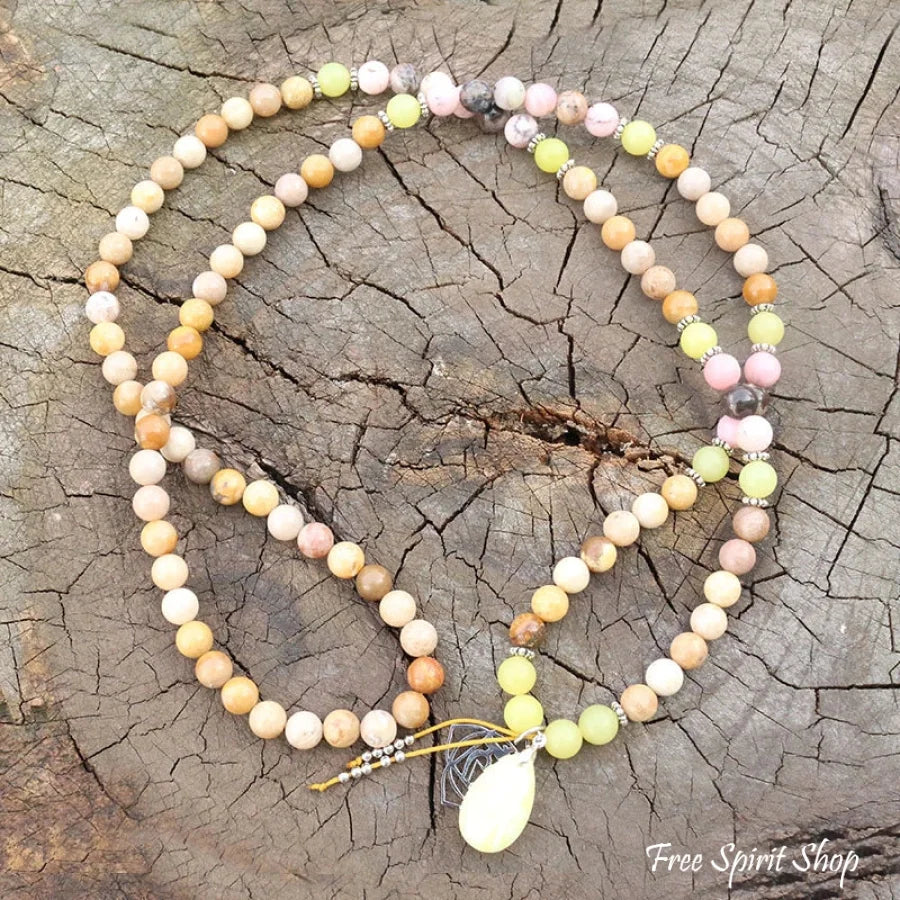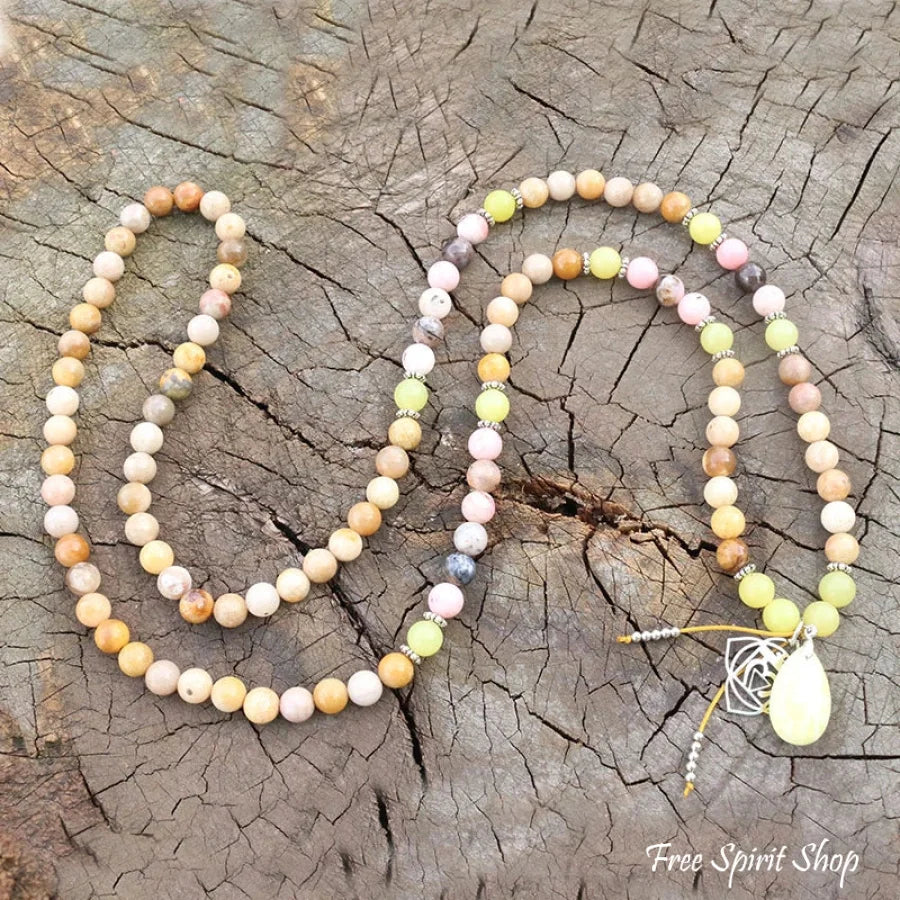 108 Olive Jade Sunstone & Pink Opal Mala Bead Necklace / Bracelet
This splendid mala prayer bead necklace is carefully handmade with 108 natural Olive Jade, Sunstone and Pink Opal gemstone beads. Your mala can be worn as a necklace or used for meditation. The beads are 8 mm. Length is about 36 inches (93 cm). Matching bracelet length is about 18.5 cm. Make your selection between the necklace, bracelet or necklace & bracelet set using the drop-down menu above. 
The healing properties of jade are very useful for emotional healing. The soothing energy from jade relieves irritability while helping to eliminate negativity.  It's mainly considered as a symbol of serenity, tranquility, and purity. It's a stone that's believed to bring in good luck, friendship, peace, and harmony. The green jade is often used for cleansing and balancing the 7 chakras. 
Pink Opal also called Stone Of Hope is powerful crystal for emotional healing, emotional balance and for healing matters of the heart. Pink Opal helps to open one's heart centre to overcome the feelings of fear, worry and anxiousness. It is well suited for very sensitive people, loving people, and people who are in need of healing the wounds of the heart and working with the heart chakra. Pink opal clears and calms the heart and brings a sense of love, peace, and tranquility to one's aura.
Sunstone is a gemstone that promotes positive energies and joy. It brings light into dark thoughts, clears negative energy and bring mental clarity. Sunstone is a gentle healing stone that promotes a warm and positive mindset while boosting self-esteem and vitality. It is a natural anti-depressant.
Malas are used for keeping count while reciting, chanting, or mentally repeating a mantra or the name or names of a deity. This sādhanā (practice) is known in Sanskrit as japa. Malas are typically made with 18, 27, 54 or 108 beads.