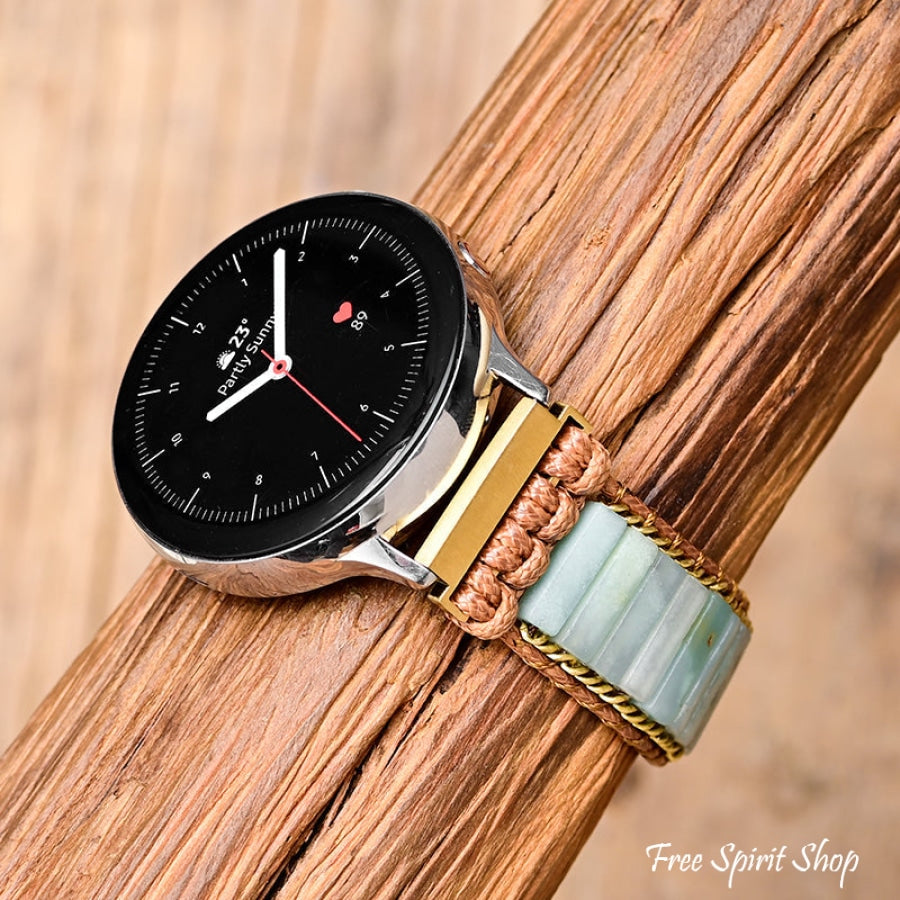 Amazonite Tube Samsung / Garmin Watch Band
Size:
Small-medium (5.5-6.5 inch wrist)
This splendid Samsung watch strap is beautifully handmade with Amazonite tube beads.  Two sizes available, pick your size in the dropdown menu above. Vegan friendly!
Also compatible with Garmin, Fossil and more smartwatches!
Pick your wrist size and watch connector size.
Samsung Galaxy 4 / 5 / 6 compatible with:
Samsung Galaxy 4

Samsung Galaxy 5
Samsung Galaxy 5 Pro
Samsung Galaxy 6
18mm compatible with:
Fossil Gen 4 - Venture HR
Fossil Gen 5E
Fossil Gen 6 (Womens)
Fossil Gen 6 - Stella
Fossil Sport 41mm
Garmin Forerunner 255S, Music
Garmin Venu 2S
Garmin Vivoactive 4S
Garmin Vivomove 3S
20mm compatible with:
Garmin Forerunner, 55, 245, 645
Garmin Move Style, Move Luxe
Garmin Venu, Venu 2 Plus
Garmin Venu Sq
Garmin Vivoactive 3, Venu, Trainer, Music
Garmin Vivomove 3
Garmin Vivomove HR 
Garmin Vivomove Sport
Garmin Vivomove Style
Samsung Galaxy Watch 3 (41mm)
Samsung Galaxy Active and Active 2 (40mm, 44mm)
Samsung Galaxy Watch (42mm)
Samsung Gear S2 Classic,
Samsung Gear Sport 
Samsung 

Galaxy Watch 4

Fossil Q Glazer
22mm compatible with:
Garmin Darth Vader/ First Avenger
Garmin Fenix Chronos
Hero Legacy 45mm
Garmin Runner 255
Garmin Vivoactive 4 (not compatible with the 4S)
Garmin Venu 2
Samsung Galaxy Watch 3 (45mm)
Samsung Galaxy Watch (46mm)
Samsung Gear S3 Classic, Frontier
Fossil Gen5 Carlyle / Julianna / Garret / Carlyle HR
Fossil Hybrid Smartwatch HR
Fossil Hybrid Smartwatch Neutra
Fossil Men's Gen4 Explorist HR
Fossil Sport 43mm
Xiaomi Color Watch
LG W100, LG W110, LGW150
Amazonite is a mint green to aqua green stone said to be of truth, honor, communication, integrity, hope, and trust. It is said to enhance intuition, psychic powers, creativity, intellect, and psychic ability. Amazonite is often associated with the throat chakra, and as such, said to be beneficial to communication. It is also associated strongly with the third eye chakra. It is said to align the physical and astral bodies. It is noted mystically to lessen stress and self-defeating behaviors by calming and building self-esteem. Amazonite is believe in crystal healing to heal emotional disturbances and the after effects of emotional trauma.