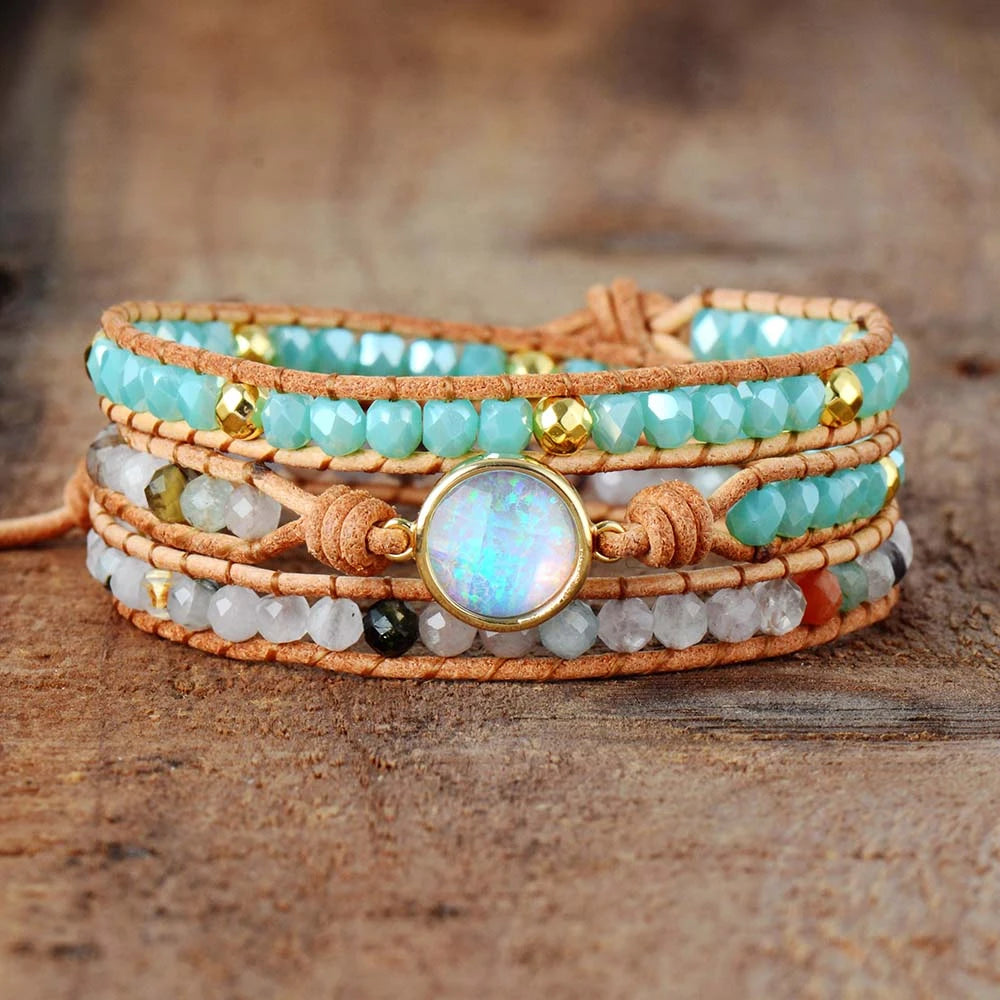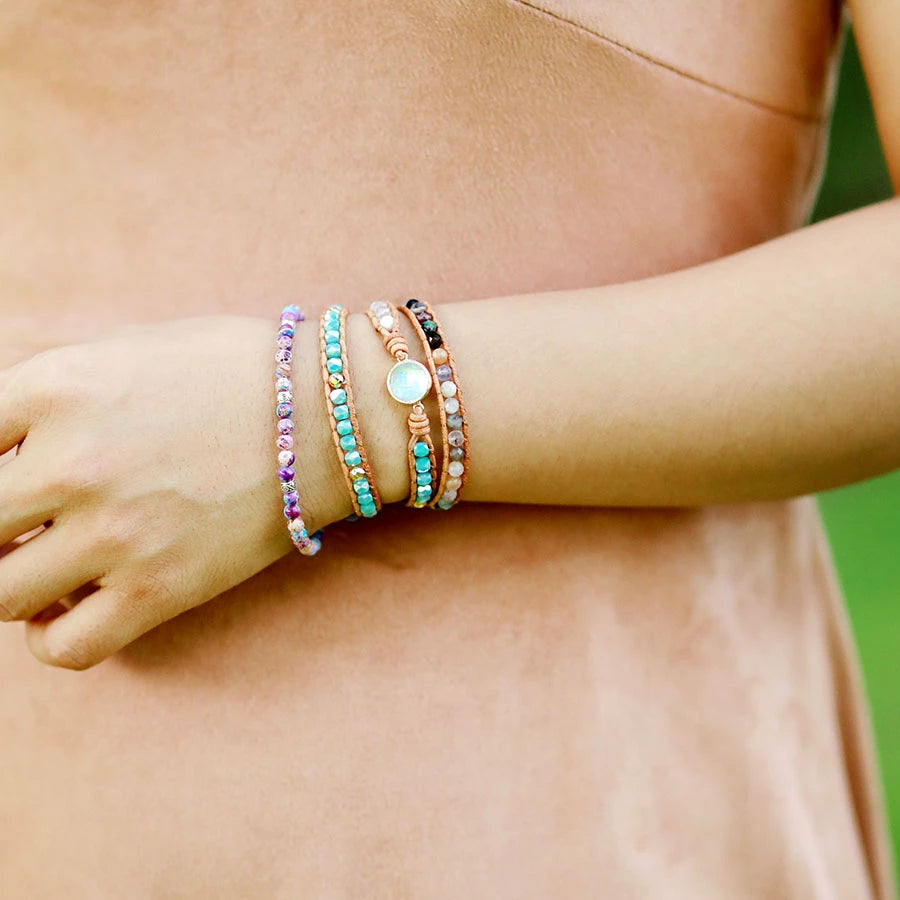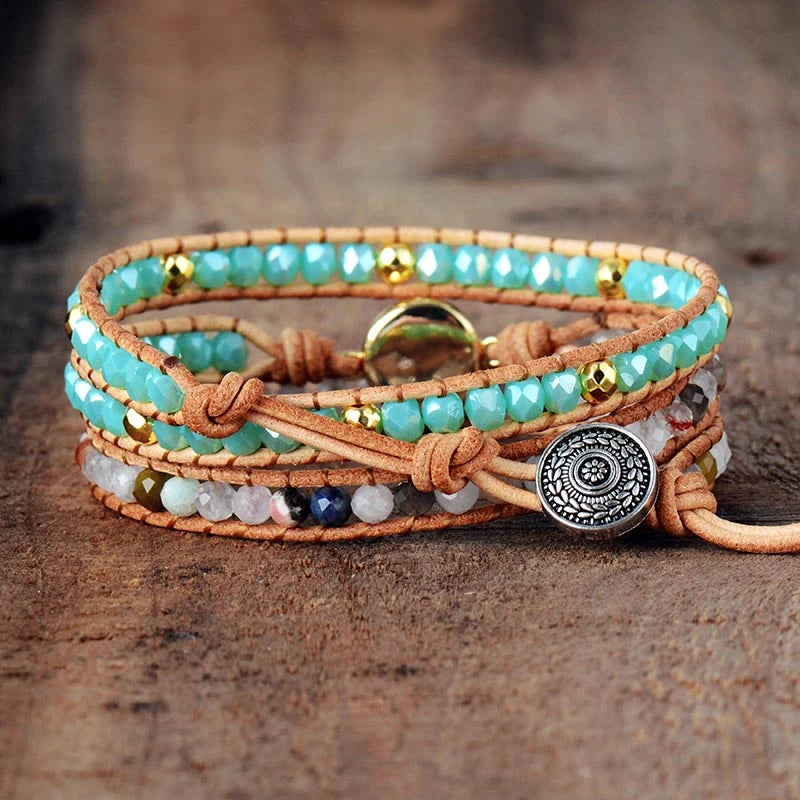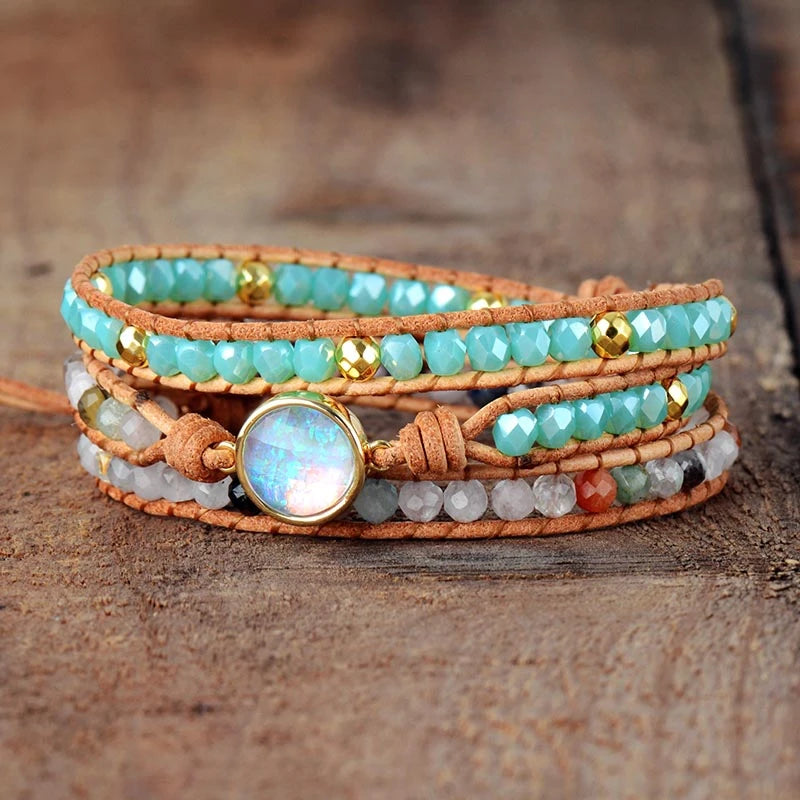 Handmade Clear Quartz & Opal Rhinestone Wrap Bracelet
This wonderful bracelet is beautifully handmade with a mix of natural Clear Quartz and Agate beads. It features a beautiful golden Opal Rhinestone center-piece. The wrap bracelet is made with genuine leather. The total length is approximately 50 cm (19.6 inches) and can be adjusted to our wrist size via the different 3 closures. 
♡ To our Vegan community: our gemstone wrap bracelets can be made with cord on request. ♡
The name Opal is acquired from the Sanskrit upala, meaning "precious stone" and the Greek spin-off "Opallios," meaning "to see a change of color." Like a kaleidoscopic, Opal is known for its wide array of colors and mesmerizing patterns. Formed from rain, this delicate stone symbolizes purity and hope. Opal is a protective stone. Wear this bracelet and remain free from harm. Opal, known as the stone of hope, is a rare healing stone known for bringing out peoples full potential and amplifying it. Its powers are very delicate and gentle. Use Opal to ease tension, return to your center, and ease any negative feelings. This stone is excellent for sensitive people, those who need assistance with giving or receiving love, purifying, and returning the mind to a peaceful state.
Clear Quartz is known as the 'master healer'. This versatile crystal emanates the true meaning of chi. As natural energy emitted by the universe's sunlight passes through this crystal, seven colors of the light spectrum touch and affect each of the seven chakras. As the 'master healer', clear quartz relieves all kinds of pain, boosts the immune system, clears blockages, enhances memory and concentration, deepens meditation, and restores the balance of the mind and body. 
Agate is an excellent stone for rebalancing and harmonising body, mind and spirit. It cleanses and stabilises the aura, eliminating and transforming negativity. Agate enhances mental function, improving concentration, perception and analytical abilities. It soothes and calms, healing inner anger or tension and creates a sense of security and safety.
Since gemstones are natural materials, stone colors and shape may vary slightly from the pictures, making this beautiful handmade item one of a kind, just like you!