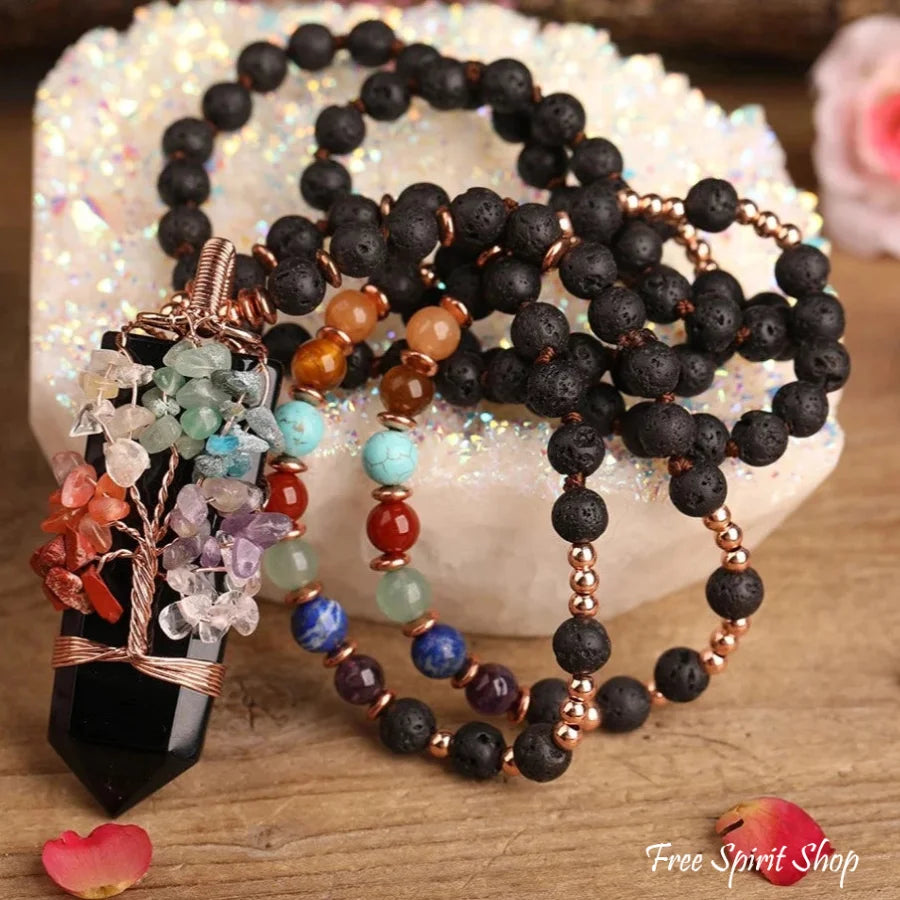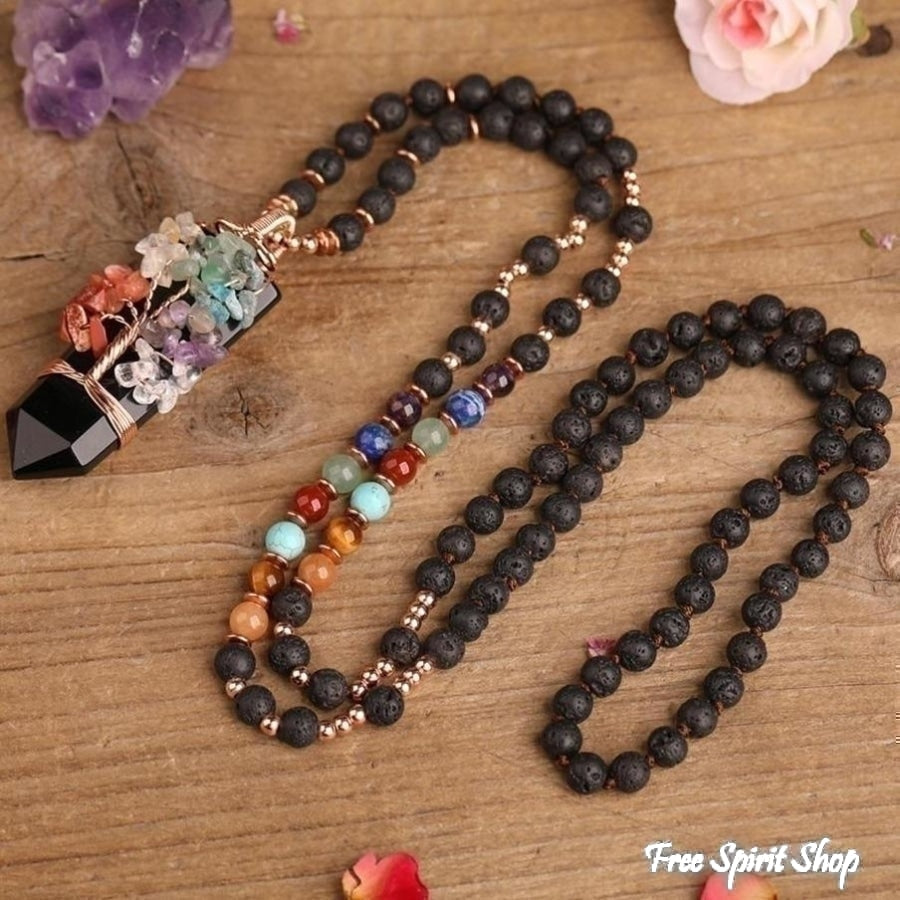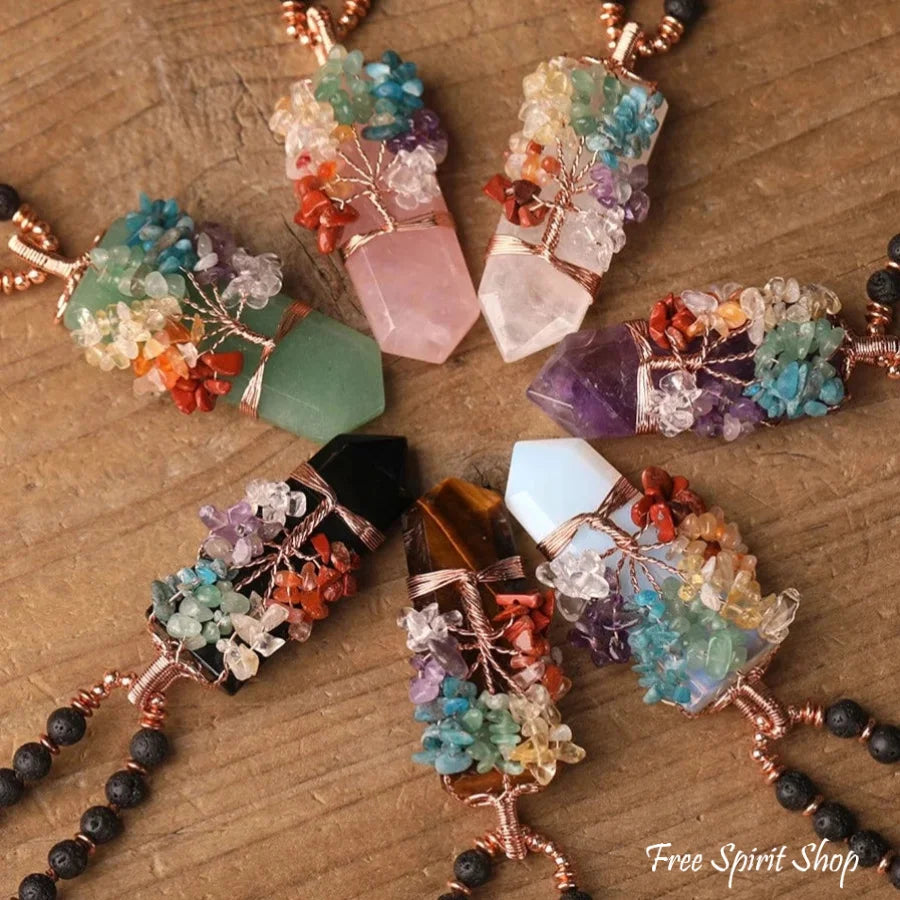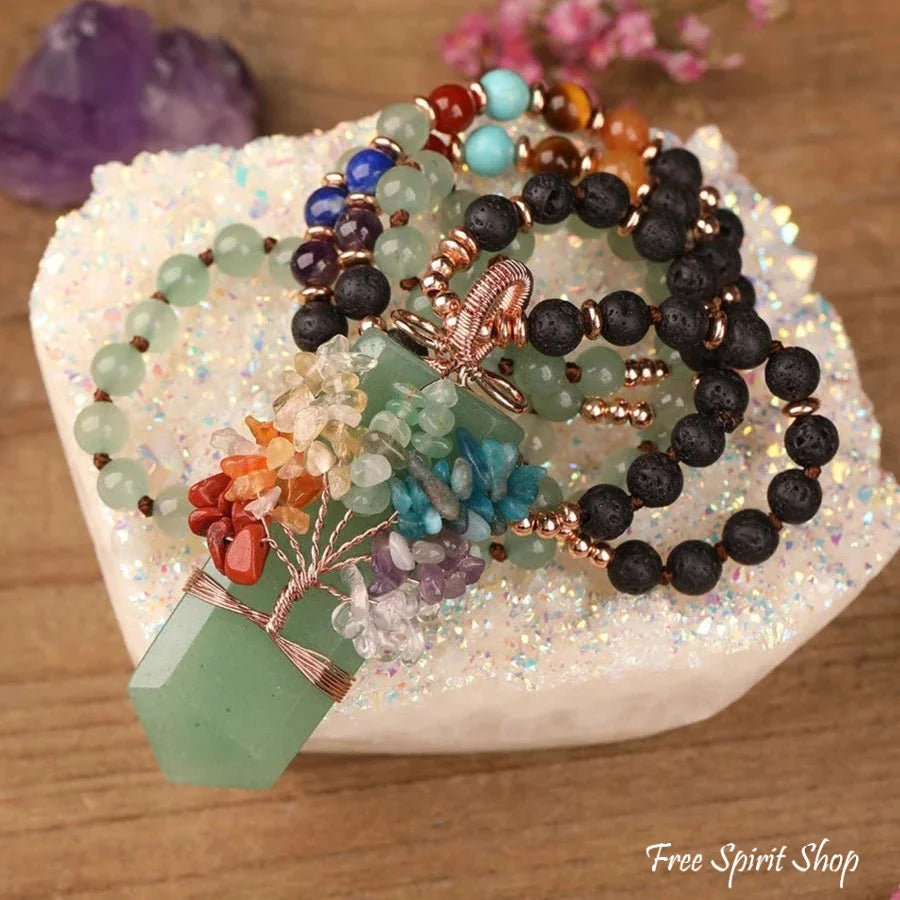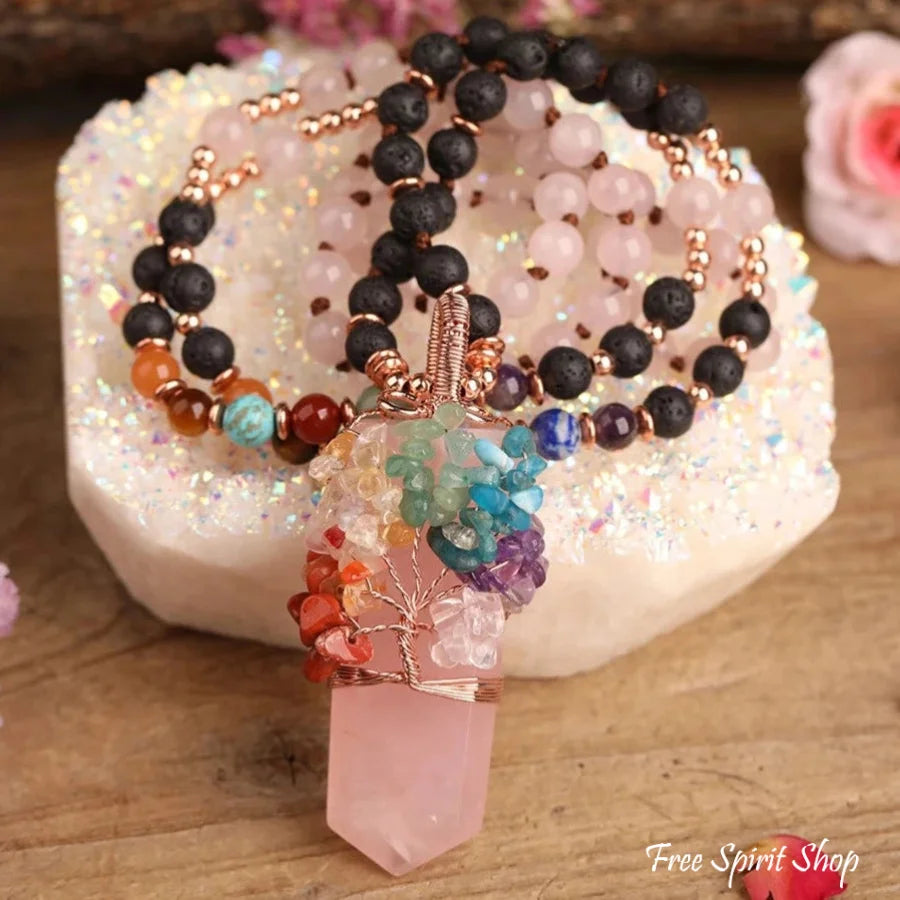 Natural 7 Chakra Tree of Life & Lava Stone Bead Necklace
Feeling your chakras out of balance? Restore your inner peace and inner balance with this splendid 7 chakra tree of life mala necklace. This beaded necklace is carefully handmade with natural Black Lava and 7 chakra gemstone beads. It features a beautiful tree of life crystal pendant. Bead size is 6mm and the mala is hand-knotted. Length is about 32 inches (81 cm).  Six crystal pendants to choose from: Amethyst, Green Aventurine, Black Agate, Rose Quartz, Tiger Eye, Clear Quartz. Choose your favorite in the dropdown menu above! 
Lava stones have emotional and spiritual benefits. Since lava is known for its grounding qualities, it's wonderful for calming the emotions. In fact, the quality of fire springs from the ground, so in terms of healing gems, this lends itself to a calming- but intense- energy. Because it comes from raw energy, it's considered to be a stone of rebirth and shedding unneeded layers of emotional attachment.
When you wear a necklace of natural healing gemstones, their energies radiate in all directions, deeply penetrating your body and aura, or energetic field. There, the gems work on neutralizing the energetic blockages that limit positive growth and lead to ill health. At the same time, the gemstones' energies uplift and nourish all aspects of your being to energize and inspire you, enhance your health, and make enduring changes.
The 7 Chakras are the energy centers in our body in which energy flows through. A chakra is like a whirling, vortex like, powerhouse of energy. The 7 chakras are: Chakra 7 – The Crown, Chakra 6 – The Third Eye, Chakra 5. The Throat, Chakra 4 – The Heart, Chakra 3 – The Solar Plexus, Chakra 2 – The Sacral, 1 -The Base.
They regulate the flow of energy throughout the electrical network (meridians) that runs through the physical body. The body's electrical system resembles the wiring in a house. It allows electrical current to be sent to every part, and is ready for use when needed. Sometimes chakras become blocked because of stress, emotional or physical problems. If the body's 'energy system' cannot flow freely it is likely that problems will occur. The consequence of irregular energy flow may result in physical illness and discomfort or a sense of being mentally and emotionally out of balance.
Malas are used for keeping count while reciting, chanting, or mentally repeating a mantra or the name or names of a deity. This sādhanā (practice) is known in Sanskrit as japa. Malas are typically made with 18, 27, 54 or 108 beads.