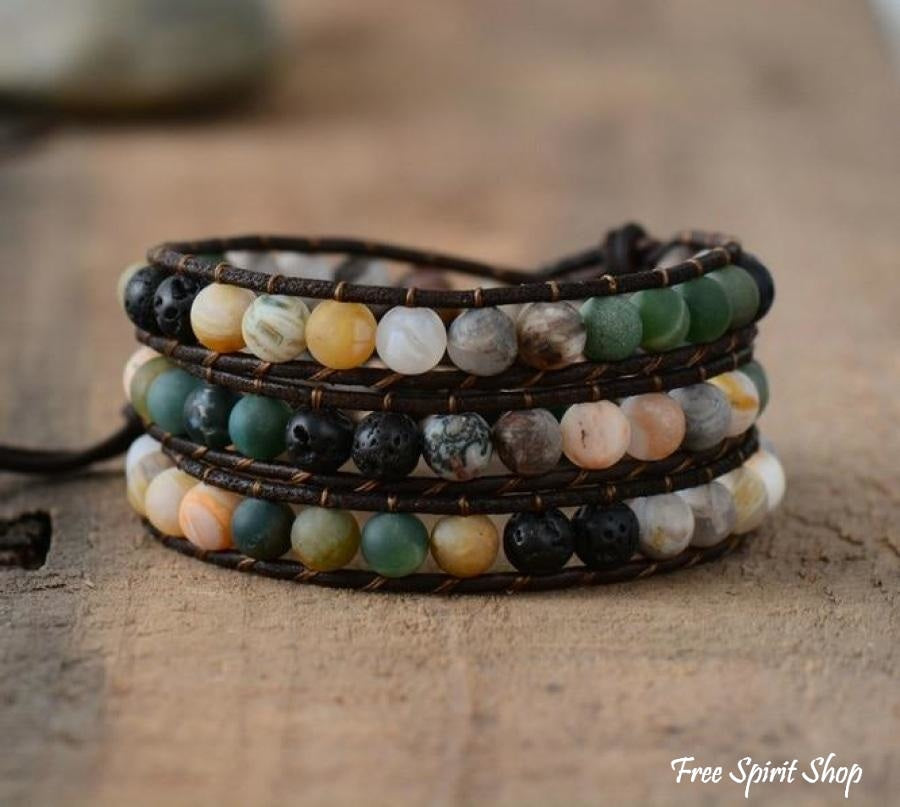 Natural Agate Black Lava & Green Onyx Beaded Wrap Bracelet
This beautiful gemstone wrap bracelet is handmade with natural Agate, Black Lava and Onyx stones. They all have wonderful chakra balancing properties. The wrap is 19.6 inches (50 cm) long and is adjustable to your wrist via the 3 closures. The wrap bracelet is mounted on genuine leather. This is a perfect gift for your loved ones! 
♡ To our Vegan community: our gemstone wrap bracelets can be made with cord on request. ♡
Green Onyx is a symbol of purity and restfulness. It has the power to relieve you of your worries, fears, tension, and stress. Its green soothing color will give you strong and positive feelings, and it will give you the mental support that you need to make the wisest decisions during times of difficulty.
Agate is an excellent stone for rebalancing and harmonising body, mind and spirit. It cleanses and stabilises the aura, eliminating and transforming negativity. Agate enhances mental function, improving concentration, perception and analytical abilities. It soothes and calms, healing inner anger or tension and creates a sense of security and safety.
*Since gemstones are natural materials, stone colors and shape may vary slightly from the picture, making this beautiful handmade item unique just like you!
All our wrap bracelets can be customized with non-leather materials :) Please contact us at contact@free-spirit-shop.com with your order number after placing an order and we will be happy to make your bracelet(s) vegan.