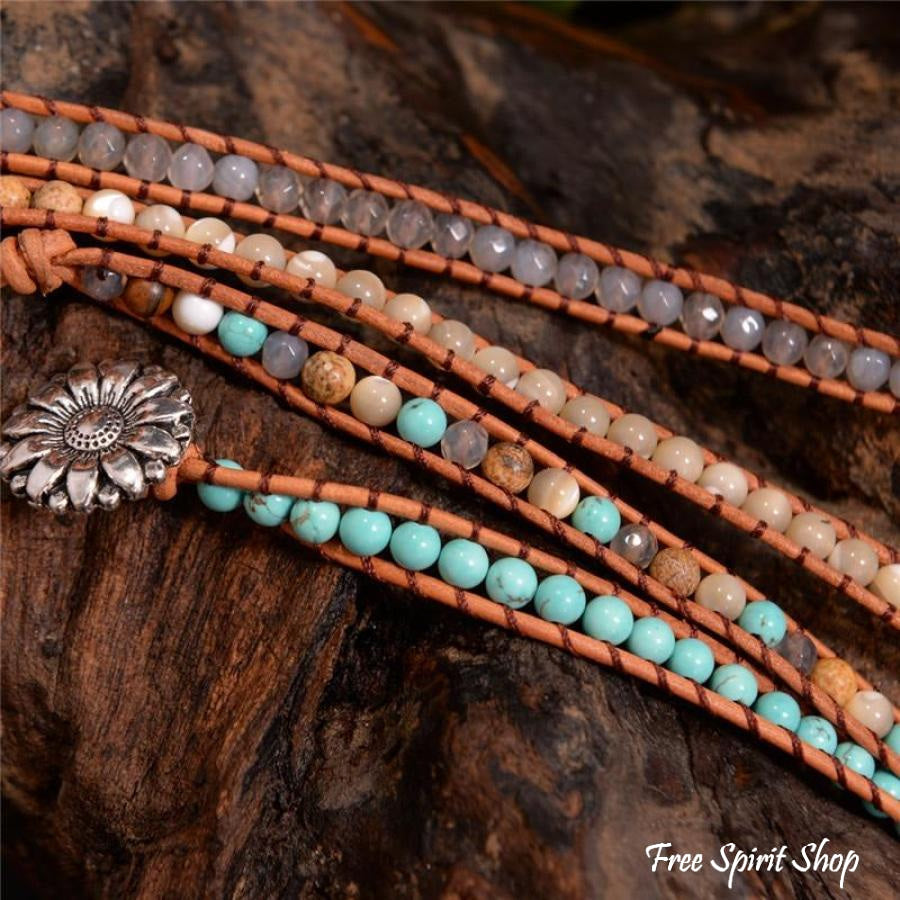 Natural Agate, Jasper & Howlite Stone Leather Wrap Bracelet
Align your chakras and bring positive energies into your life with this unique gemstone leather wrap bracelet. This splendid bracelet is carefully handmade with a mix of natural gemstones and genuine leather. Gemstones include Jasper, turquoise Howlite and Agate. Total length is approximately 32.5 inches (83 cm) and can be adjusted through the three clasps to fit almost all wrist sizes. 
When you wear a bracelet of natural healing gemstones, their energies radiate in all directions, deeply penetrating your body and aura, or energetic field. There, the gems work on neutralizing the energetic blockages that limit positive growth and lead to ill health. At the same time, the gemstones' energies uplift and nourish all aspects of your being to energize and inspire you, enhance your health, and make enduring changes.
Jasper is a very nourishing, warm and protective stone no matter what colour you find the jasper in - be it yellow, green, blue, purple or the deep earthy red. Jaspers are the nurturers, the healers and the spirit stones of courage and wisdom. They all carry a strong connection to the Earth's energy, making the jasper healing properties very beneficial for grounding, stability and strength.
Agate is an excellent stone for rebalancing and harmonising body, mind and spirit.  It cleanses and stabilises the aura, eliminating and transforming negativity.  Agate enhances mental function, improving concentration, perception and analytical abilities.  It soothes and calms, healing inner anger or tension and creates a sense of security and safety.
Howlite is predominantly a calming stone. It will aid in sleeping, calming the overactive mind, eases insomnia and stress relief. Physically, it calms the whole body and releases muscle tension. It eliminates pain brought about by stress. This stone will also work in giving you the strength to let go of unhealthy attachments and old emotional pains. It can help you process your emotions so that they can give you peace, happiness, and contentment in all aspects of your life. Howlite is a wonder stone that can effectively calm your upset or harried state of mind. It can soften or remove your anger, your aggressiveness, and your being unreasonable.