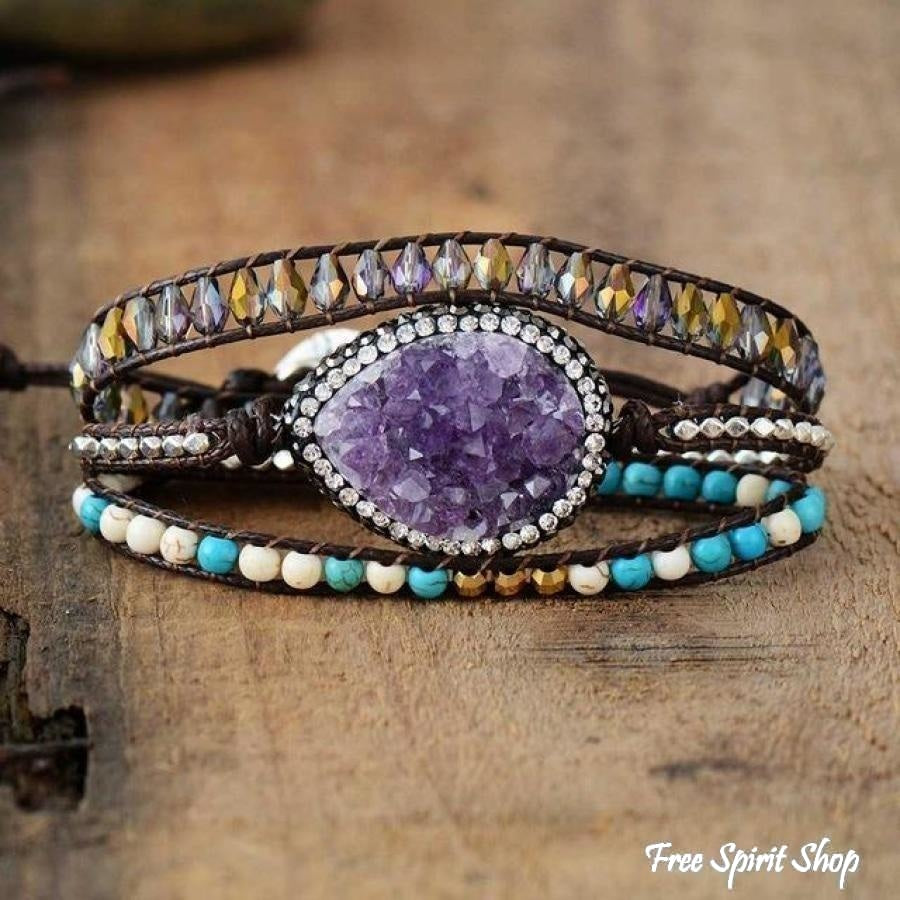 Natural Amethyst Howlite Turquoise & Crystal Wrap Bracelet
Align your chakras, bring inner peace, balance and positivity into your life with this wonderful gemstone wrap bracelet. This splendid multi layer wrap bracelet is beautifully handmade with natural Amethyst, Howlite and Turquoise gemstones and crystal beads. It features a splendid natural Amethyst druzy. Two options available: non-leather or genuine leather. Total length is 50 cm / 19.7 inches and is adjustable through the 3 closures.
Amethyst is known for healing impatience, balancing energies, eliminating mental agitation, bringing clarity, and helping grounding. Amethyst has healing powers to help with physical ailments, emotional issues, and in Energy Healing and Chakra balancing. Amethyst crystal therapies are primarily associated with physical ailments of the nervous system, the curing of nightmares and insomnia, and balancing the crown chakra. It is a powerful and protective stone that helps relieve stress and strain, soothes irritability, balances mood swings, dispels anger, rage, fear and anxiety. It calms and stimulates the mind, helping you become more focused, enhancing memory and improving motivation.
Turquoise has been used as a purification stone. As a healing stone, Turquoise is among the crystal healing master stones.It dispels negative energy and clears electromagnetic smog. This gemstone also provides protection against environmental pollutants. It balances and aligns all the chakras, attuning the physical body to the spiritual.
Howlite is predominantly a calming stone. It will aid in sleeping, calming the overactive mind, eases insomnia and stress relief. Physically, it calms the whole body and releases muscle tension. It eliminates pain brought about by stress. This stone will also work in giving you the strength to let go of unhealthy attachments and old emotional pains. It can help you process your emotions so that they can give you peace, happiness, and contentment in all aspects of your life. Howlite is a wonder stone that can effectively calm your upset or harried state of mind. It can soften or remove your anger, your aggressiveness, and your being unreasonable.
♡ To our Vegan community: our gemstone wrap bracelets can be made with cord on request. ♡
*Since gemstones are natural materials, stone colors and shape may vary slightly from the picture, making this beautiful handmade item unique just like you!