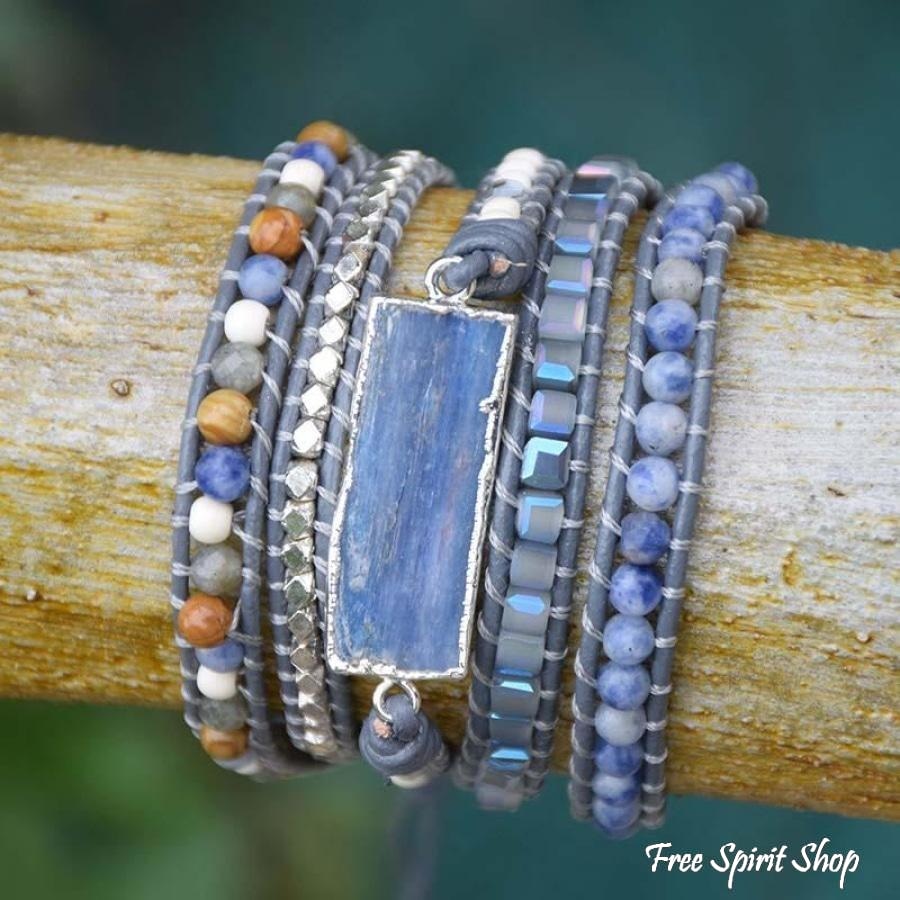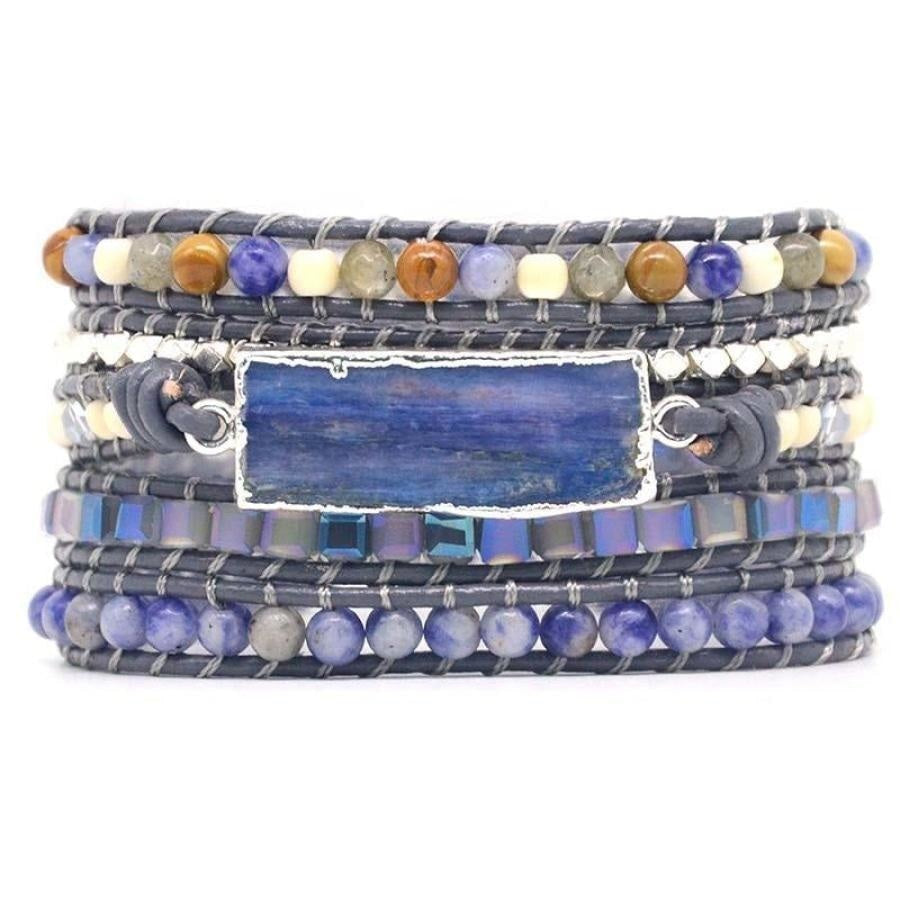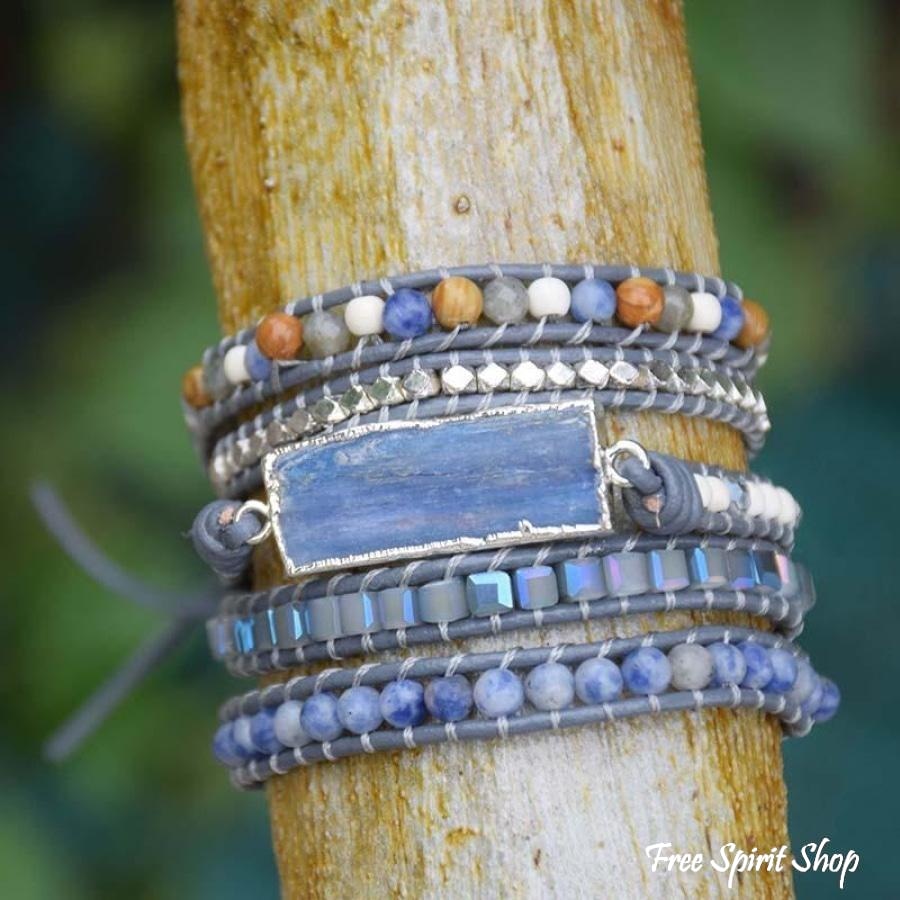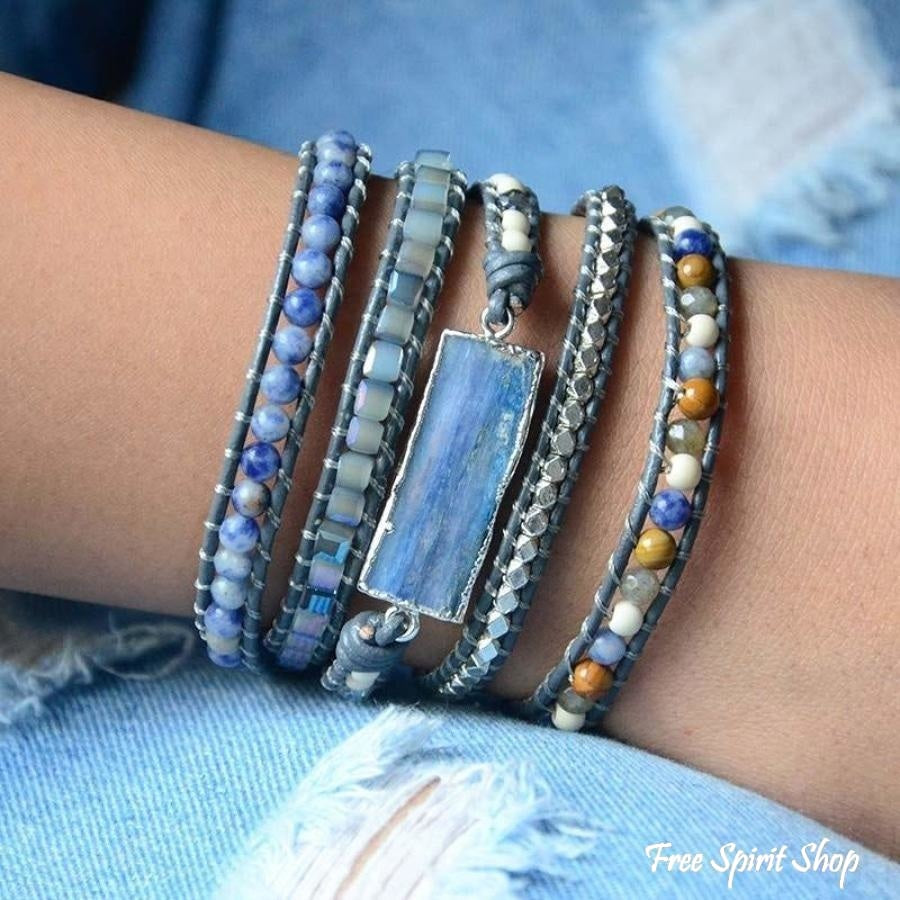 Natural Blue Topaz Sodalite & Howlite Gemstone Leather Wrap Bracelet - Silver Version
We are happy to introduce this silver version of our Blue Topaz wrap bracelet! Bring serenity and positive energies in your life with this splendid Blue Topaz gemstone leather wrap bracelet. This beautiful 5 layer chakra healing bracelet is handmade with different type of natural semi-precious gemstone beads such as Blue Topaz, Sodalite, Labradorite, Picture Jasper and Howlite which all have wonderful healing properties! It is 33 inches (85 cm) long and is adjustable to your wrist.
Looking at Blue Topaz will make you think of the water, the wind, and the sky! It is known as the gemstone of love, affection, and good fortune. Blue Topaz is known to soothe, recharge, heal, stimulate, and redirect the energies of the body to where they're required the most. Blue Topaz is a stone of peacefulness, calming to the emotions, and ideal for meditation and connecting with spiritual beings. It's a stone that will enhance forgiveness and truth, and bring a lot of joy, abundance, generosity, and good health.
Sodalite encourages rational thought, objectivity, truth and intuition, along with verbalisation of feelings. Sodalite brings emotional balance and calms panic attacks. It enhances self-esteem, self-acceptance and self-trust. Sodalite balances the metabolism, boosts the immune system and overcomes calcium deficiencies.
Labradorite is the most powerful protector of the mineral kingdom, creating a shielding force throughout the aura and strengthening natural energies from within. It protects against the negativity and misfortunes of this world, and provides safe exploration into alternate levels of consciousness and in facilitating visionary experiences from the past or the future.
Howlite is predominantly a calming stone. It will aid in sleeping, calming the overactive mind, eases insomnia and stress relief. Physically, it calms the whole body and releases muscle tension. It eliminates pain brought about by stress. This stone will also work in giving you the strength to let go of unhealthy attachments and old emotional pains. It can help you process your emotions so that they can give you peace, happiness, and contentment in all aspects of your life. Howlite is a wonder stone that can effectively calm your upset or harried state of mind. It can soften or remove your anger, your aggressiveness, and your being unreasonable.
*Since gemstones are natural materials, stone colors and shape may vary slightly from the picture, making this beautiful handmade item unique just like you! ♡
All our wrap bracelets can be customized with non-leather materials :) Please contact us at contact@free-spirit-shop.com with your order number after placing an order and we will be happy to make your bracelet(s) vegan.