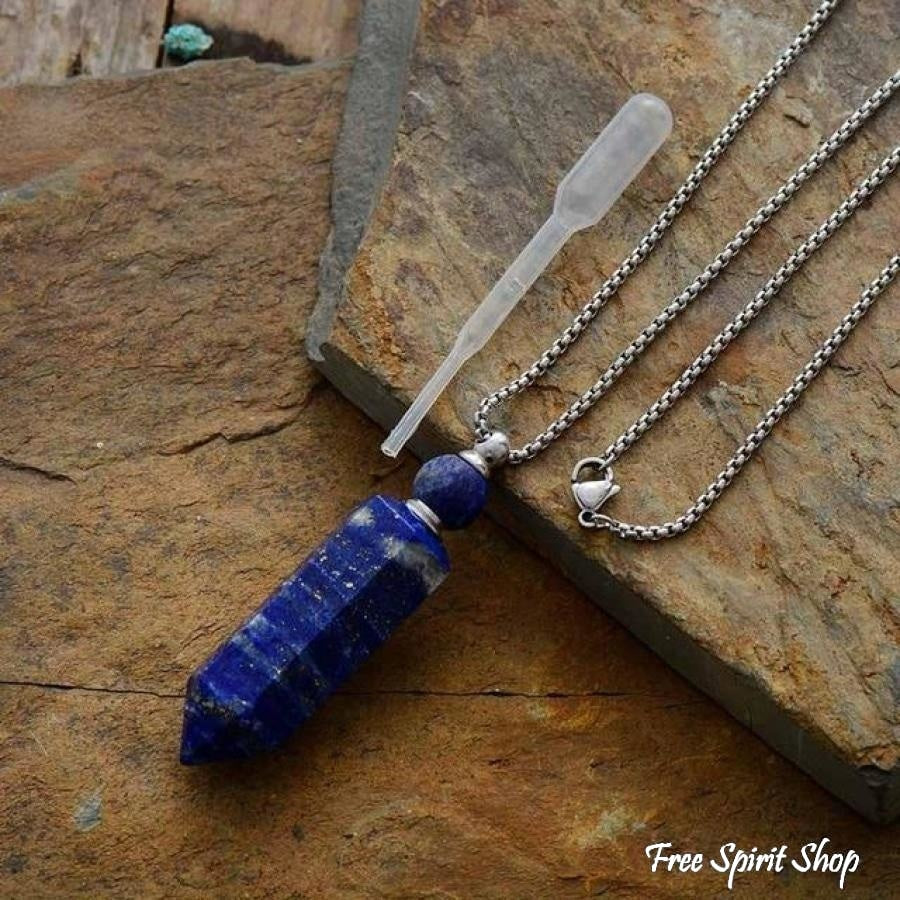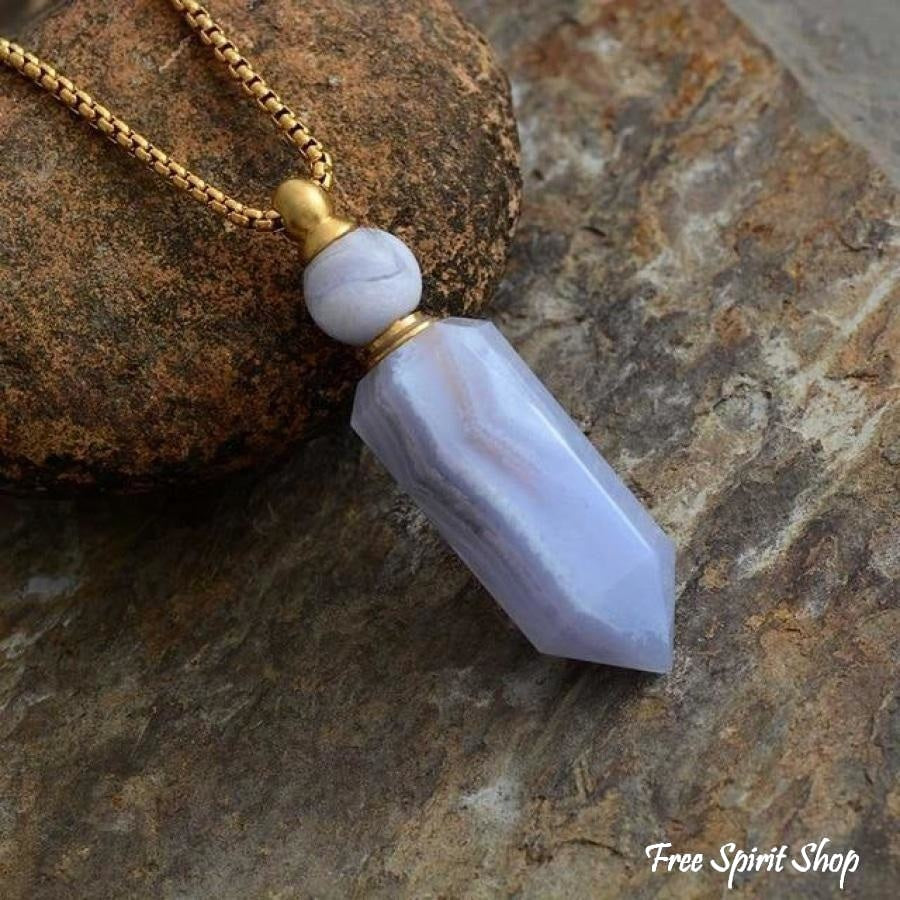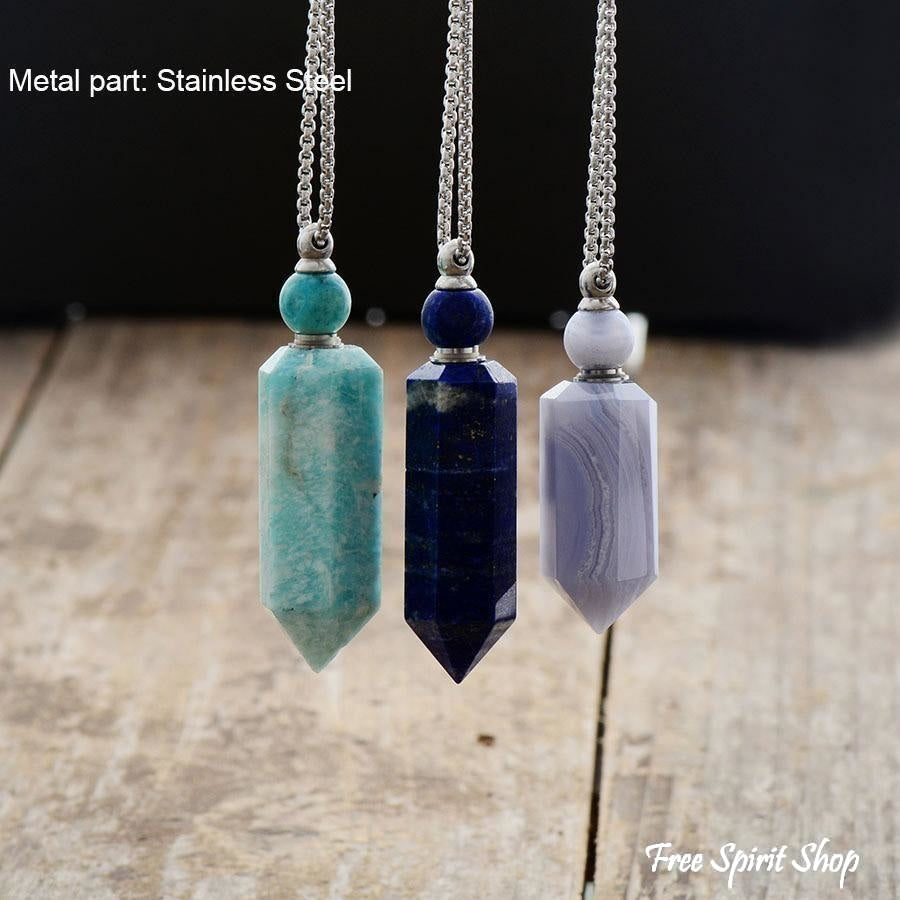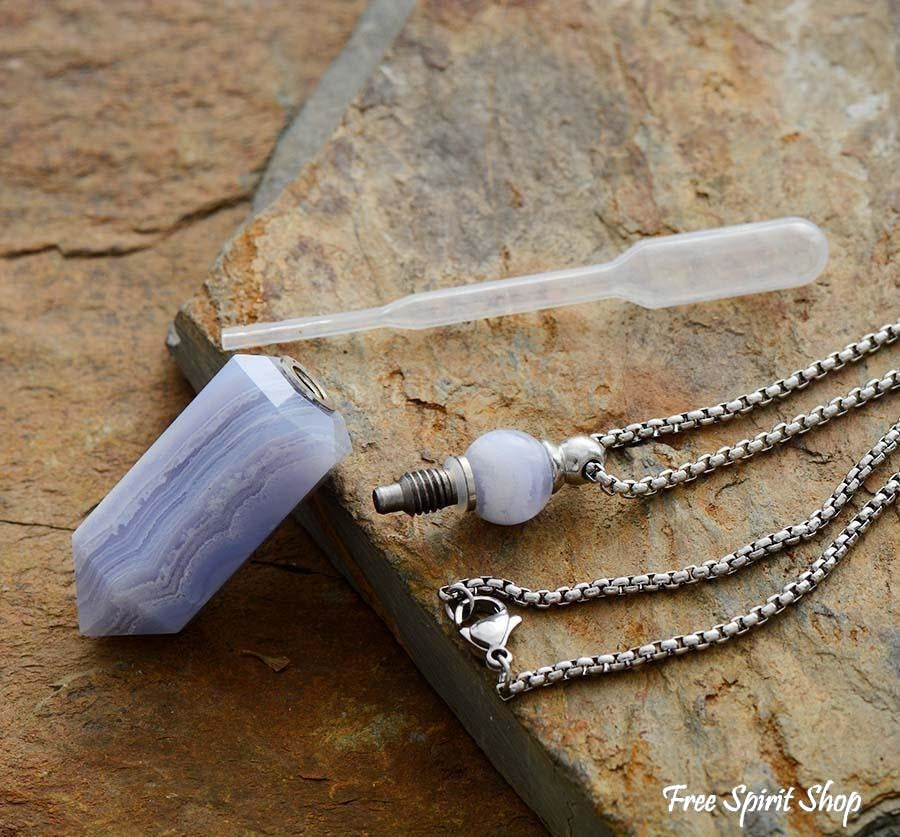 Natural Crystal Perfume Bottle Necklace
This gorgeous wand point perfume bottle necklace is handmade of genuine natural crystal stones. Fill each bottle with your favorite essential oil or fragrance and keep it with you all day long. Three beautiful and powerful natural healing gemstones to choose from: Agate, Lapis Lazuli, and Amazonite. Each mini perfume bottle hangs from a 27" (68 cm) sturdy gold or silver chain. The metal parts are brass for the gold option and stainless steel for the silver option. 
Agate is an excellent stone for rebalancing and harmonising body, mind and spirit. It cleanses and stabilises the aura, eliminating and transforming negativity. Agate enhances mental function, improving concentration, perception and analytical abilities. It soothes and calms, healing inner anger or tension and creates a sense of security and safety.
Amazonite is a mint green to aqua green stone said to be of truth, honor, communication, integrity, hope, and trust. It is said to enhance intuition, psychic powers, creativity, intellect, and psychic ability. Amazonite is often associated with the throat chakra, and as such, said to be beneficial to communication. It is also associated strongly with the third eye chakra. It is said to align the physical and astral bodies. It is noted mystically to lessen stress and self-defeating behaviors by calming and building self-esteem. Amazonite is believe in crystal healing to heal emotional disturbances and the after effects of emotional trauma.
Lapis Lazuli activates the psychic centers at the Third Eye, and balances the energies of the Throat Chakra. The Brow Chakra, also called the Third Eye, is the center of our perception and command. It directs our sight and everyday awareness of the world. As a protection stone, Lapis Lazuli protects from psychic and physical attacks. It can be used in protection grids, worn, or carried to bring these protection energies.