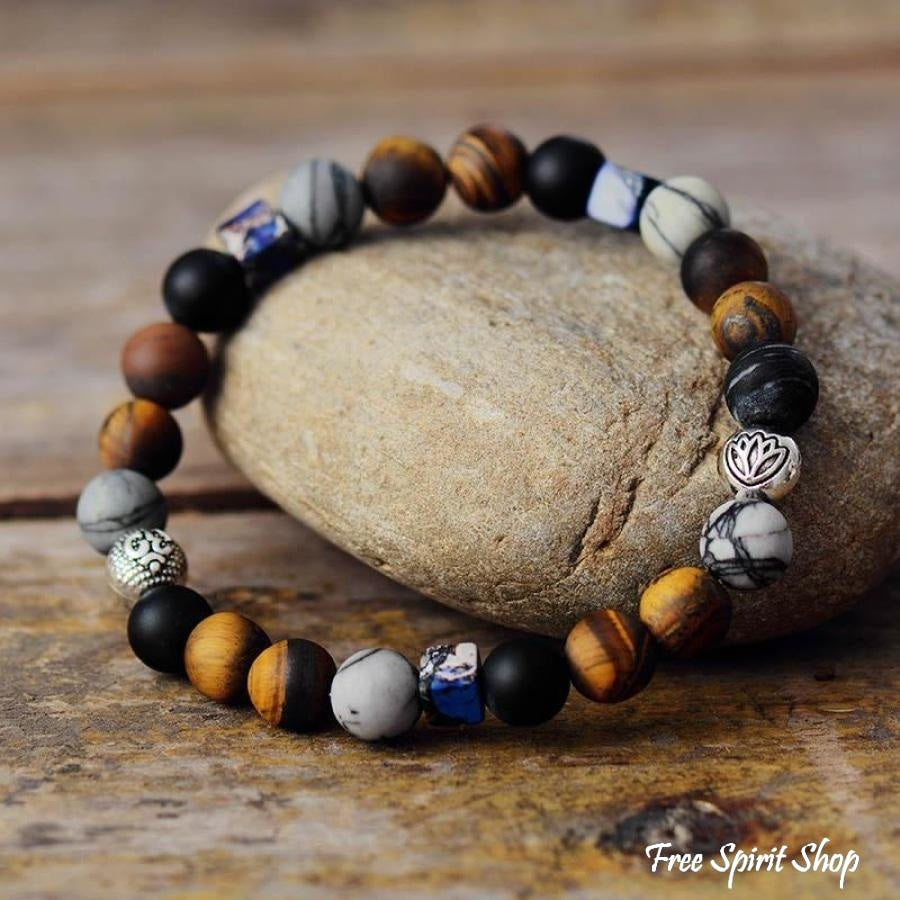 Natural Matte Tiger Eye Jasper & Onyx Bead Bracelet
This splendid bead bracelet is carefully handmade with natural matte Tiger Eye, Black Onyx and Jasper stone beads. The beads are 8 mm.  Two sizes available in the drop-down menu above. 
Black Onyx is a powerful protection stone that absorbs and transforms negative energy, and helps to prevent the drain of personal energy. Black Onyx aids the development of emotional and physical strength and stamina, especially when support is needed during times of stress, confusion or grief.
Tigers Eye is a powerful stone that aids harmony and balance, and helps you to release fear and anxiety. It stimulates taking action, and helps you to make decisions with discernment and understanding, and unclouded by your emotions. Traditionally it was carried as an amulet against curses or ill-wishing, and is known to give you courage, self confidence and strength of will. It enhances creativity and is one of the stones that aid kundalini awakening and balances the brain.
The meaning of jasper stone is in the essence of its energy. Jasper is a very nourishing, warm and protective stone no matter what colour you find the jasper in - be it yellow, green, blue, purple or the deep earthy red. Jaspers are the nurturers, the healers and the spirit stones of courage and wisdom. They all carry a strong connection to the Earth's energy, making the jasper healing properties very beneficial for grounding, stability and strength.
Since gemstones are natural materials, stone colours and shape may vary slightly from the pictures, making this beautiful handmade item one of a kind, just like you!