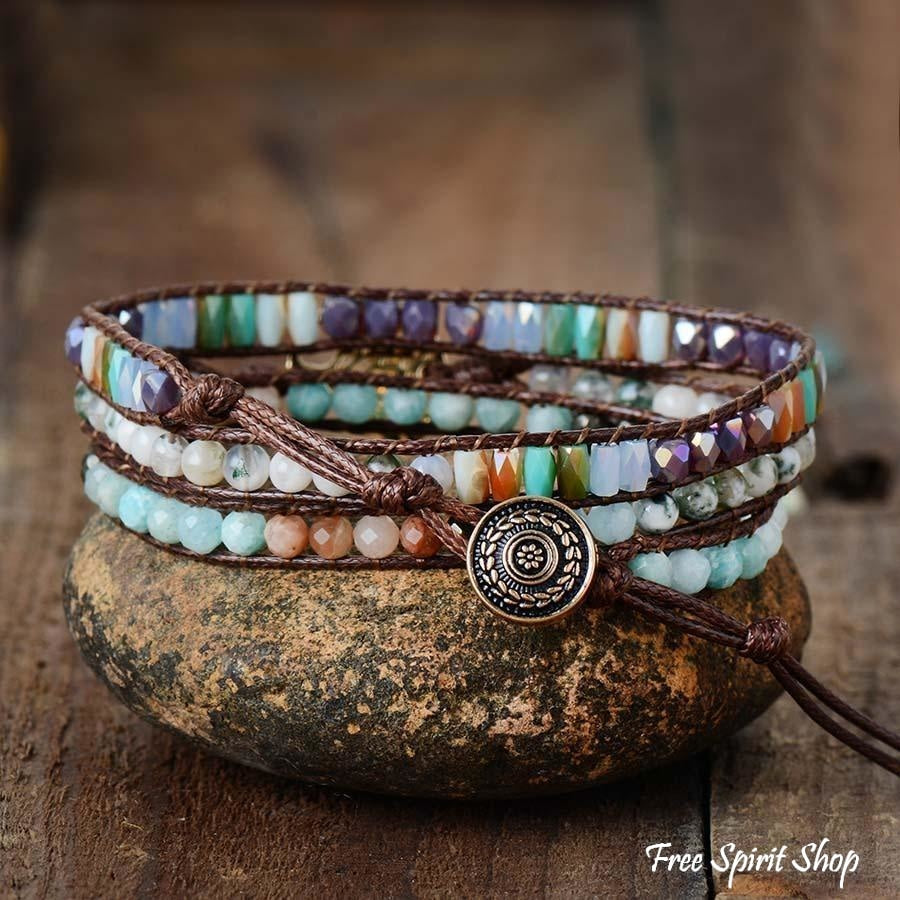 Natural Mixed Gemstones & Tree of Life Wrap Bracelet
Align your chakras and bring positive energies into your life with this unique gemstone wrap bracelet. This splendid bracelet is carefully handmade with a mix of natural gemstones and vegan waxed cord. It features a beautiful tree of life charm symbol of peace and fertility. The wrap is 19.6 inches (50 cm) long and is adjustable to your wrist through the 3 closures. 2 colors available. 
When you wear a bracelet of natural healing gemstones, their energies radiate in all directions, deeply penetrating your body and aura, or energetic field. There, the gems work on neutralizing the energetic blockages that limit positive growth and lead to ill health. At the same time, the gemstones' energies uplift and nourish all aspects of your being to energize and inspire you, enhance your health, and make enduring changes.
The Tree of Life is a universal symbol found in many spiritual and mythological traditions around the world. In various cultures it is known as the Cosmic Tree, the World Tree and the Holy Tree. The Tree of Life symbolizes many things, including wisdom, protection, strength, bounty, beauty, and redemption. This wise and holy Tree is like the Creator as it sustains creation with its abundant fruit, protection and generativity.
*Since gemstones are natural materials, stone colors and shape may vary slightly from the picture, making this beautiful handmade item unique just like you! ♡