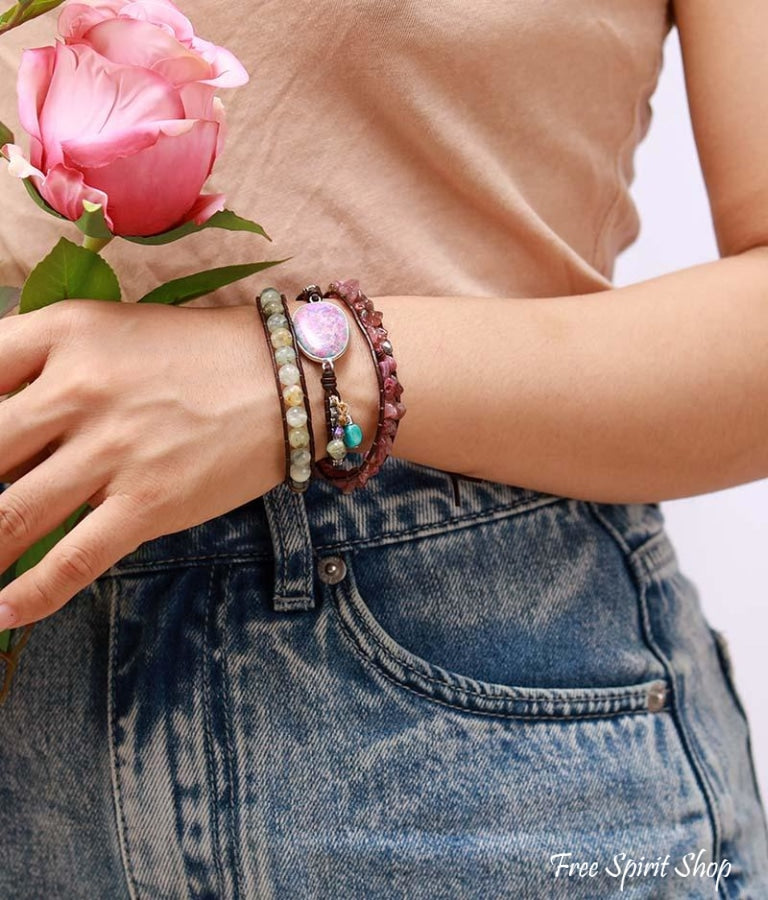 Natural Pink Tourmaline & Prehnite Wrap Bracelet
Bring protection and inner peace into your life with this wonderful three layer wrap bracelet. It is handmade with a natural Pink Tourmaline, Purple Jasper and Prehnite gemstone beads. It is mounted on genuine leather. Length is approximately 19.5 inches (49 cm) and is adjustable to your wrist via 3 different closures.
Tourmaline imparts powerful healing energy and powerful protection energy. Pink Tourmaline meaning is based on its ability to provide healing energy for the heart and center of the body. It has a powerful metaphysical properties for healing stress & emotional or mood related problems. It is one of the ultimate crystal healing tools for matters of the heart. Place pink tourmaline on the heart chakra for emotional healing and to assist with the release of past abuse and negative attachments. 
Prehnite is considered a stone of unconditional love and the crystal to heal the healer. Prehnite brings comfort and peace to your heart chakra. It harmonizes the body by balancing out the masculine and feminine energies, which balances the intellectual, emotional, physical, and auric energies.