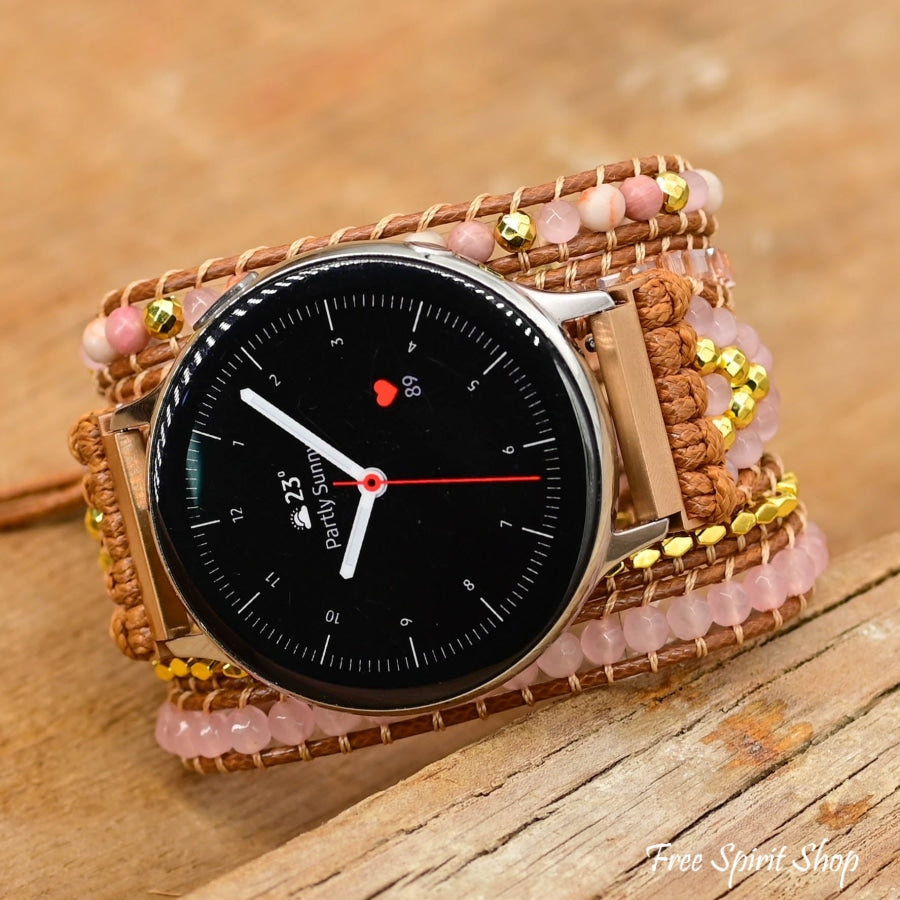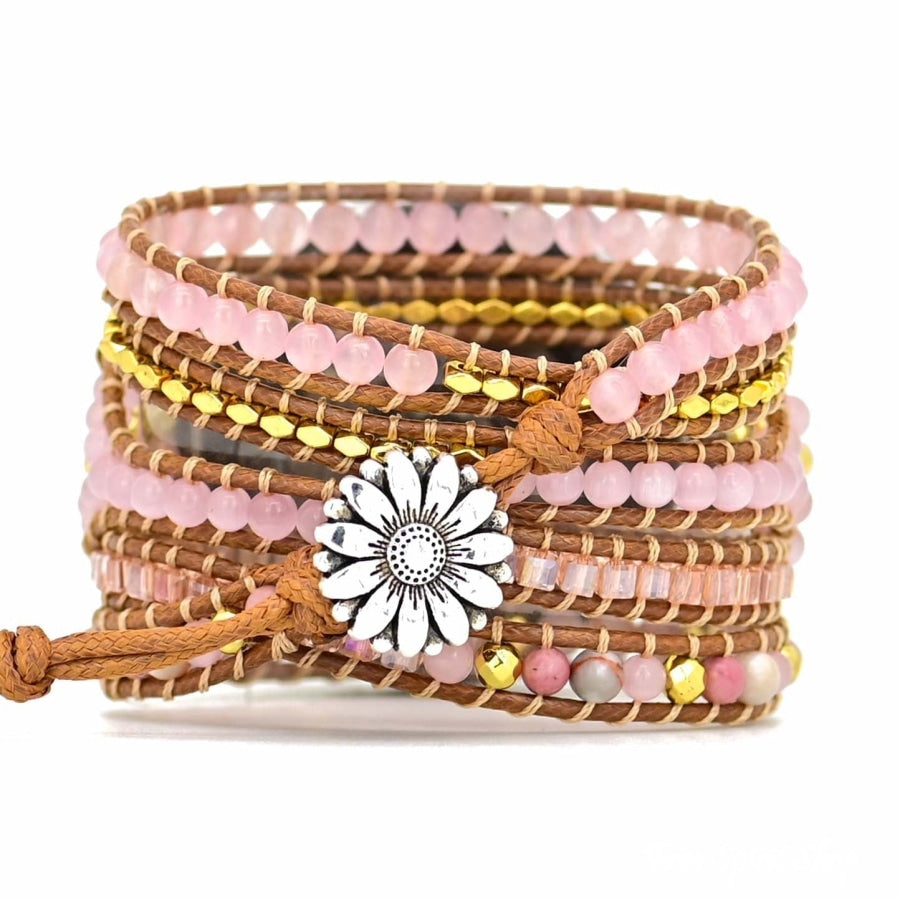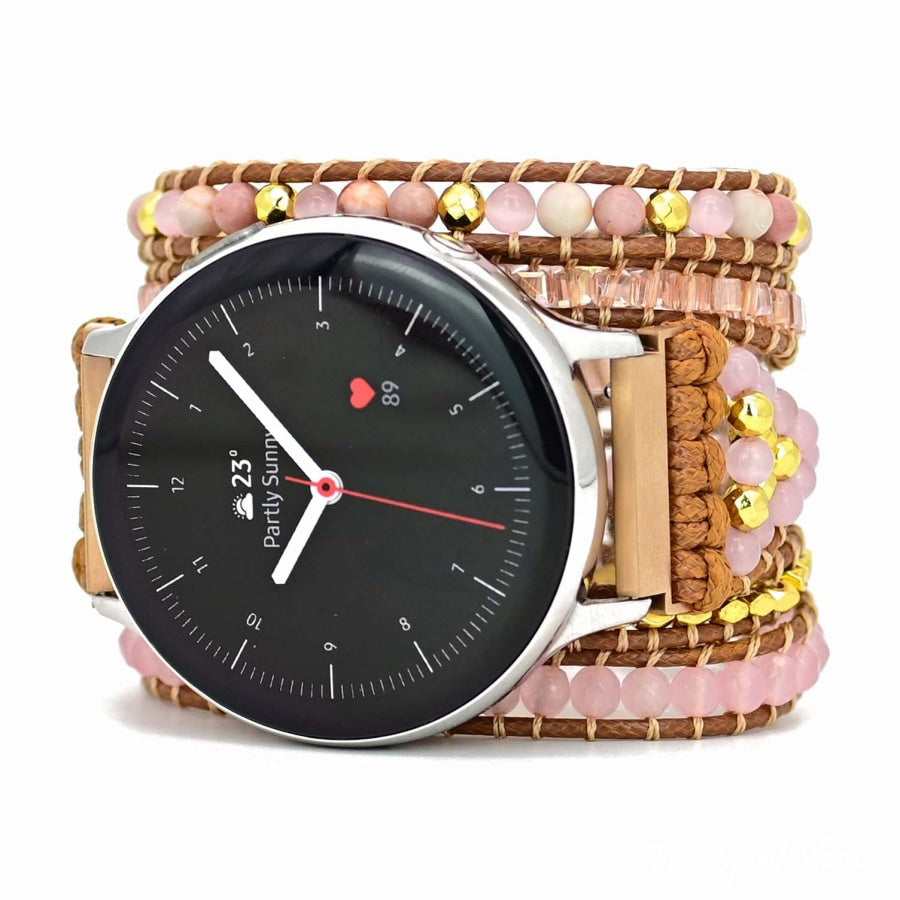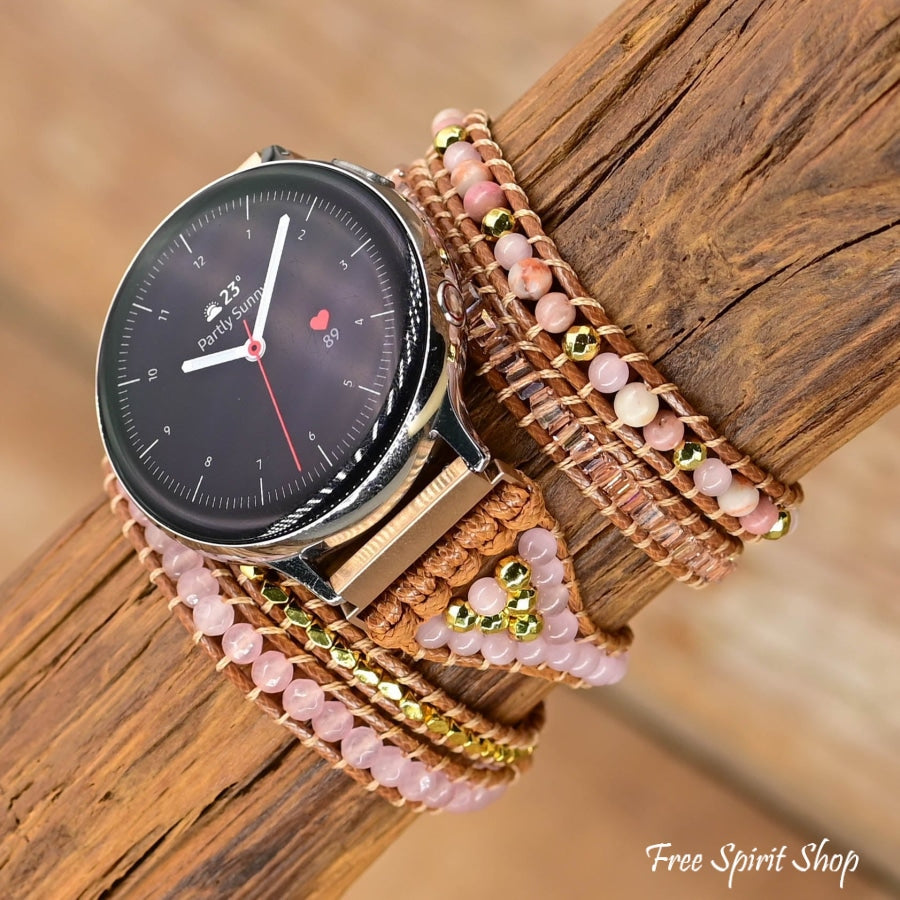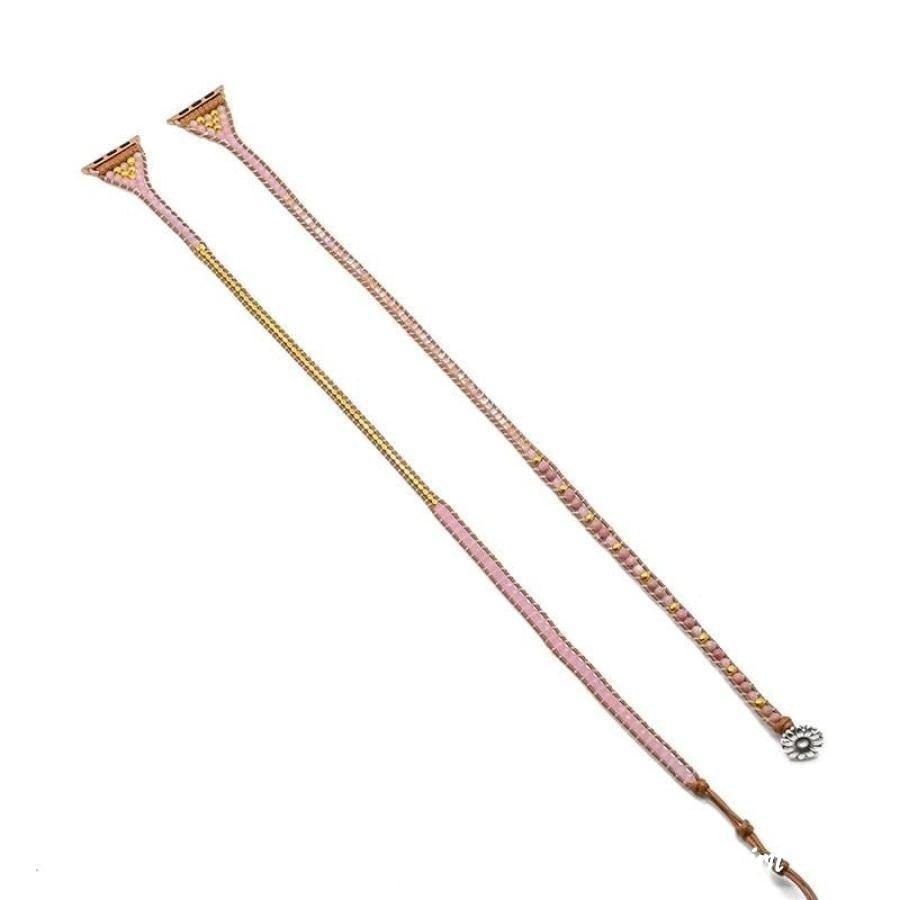 Natural Rhodonite & Rose Quartz Samsung / Garmin Watch Band
Size:
Medium: 6.3-7.2 inch wrist
Watch Connector Size:
18mm
Bring love and affection in your life with this wonderful Heart Chakra Samsung Watch Band. This splendid wrap is carefully handmade with natural Rose Quartz and Rhodonite gemstone beads. Three sizes available: small, medium, large and each size is adjustable. Vegan friendly! Also compatible with Garmin, Fossil and more smartwatches!
Pick your wrist size and watch connector size.
Samsung Galaxy 4 & 5 compatible with:
Samsung Galaxy 4

Samsung Galaxy 5
18mm compatible with:
Fossil Gen 4 - Venture HR
Fossil Gen 5E
Fossil Gen 6 (Womens)
Fossil Gen 6 - Stella
Fossil Sport 41mm
Garmin Forerunner 255S, Music
Garmin Venu 2S
Garmin Vivoactive 4S
Garmin Vivomove 3S
20mm compatible with:
Garmin Forerunner, 55, 245, 645
Garmin Move Style, Move Luxe
Garmin Venu, Venu 2 Plus
Garmin Venu Sq
Garmin Vivoactive 3, Venu, Trainer, Music
Garmin Vivomove 3
Garmin Vivomove HR 
Garmin Vivomove Sport
Garmin Vivomove Style
Samsung Galaxy Watch 3 (41mm)
Samsung Galaxy Active and Active 2 (40mm, 44mm)
Samsung Galaxy Watch (42mm)
Samsung Gear S2 Classic,
Samsung Gear Sport 
Samsung 

Galaxy Watch 4

Fossil Q Glazer
22mm compatible with:
Garmin Darth Vader/ First Avenger
Garmin Fenix Chronos
Hero Legacy 45mm
Garmin Runner 255
Garmin Vivoactive 4 (not compatible with the 4S)
Garmin Venu 2
Samsung Galaxy Watch 3 (45mm)
Samsung Galaxy Watch (46mm)
Samsung Gear S3 Classic, Frontier
Fossil Gen5 Carlyle / Julianna / Garret / Carlyle HR
Fossil Hybrid Smartwatch HR
Fossil Hybrid Smartwatch Neutra
Fossil Men's Gen4 Explorist HR
Fossil Sport 43mm
Xiaomi Color Watch
LG W100, LG W110, LGW150
Rose Quartz is the stone of unconditional love. One of the most important stones for Heart Chakra work, Rose Quartz opens the heart to all types of love - love of self, love of family, love of friends, romantic love. Because it is a type of quartz, Rose Quartz does have a high energy, but its vibe is also calming and soothing.The soothing energy of Rose Quartz fosters empathy, reconciliation, and forgiveness of others. Lowering stress and tension in the heart, Rose Quartz clears out anger, jealousy, and resentment of others, and allows healing of heart issues and dis-ease associated with holding on to such negative emotions.
On the emotional level, Rhodonite is one of the strongest crystals for clearing psychic wounds in the heart or mind.  Rhodonite is the Stone of Forgiveness and it will help you to let go of any pain from a past relationship with an attitude of love and forgiveness. Rhodonite helps to balance the emotions and calm impatience. Rhodonite can enhance power in those who have truly altruistic intentions.
*Since gemstones are natural materials, stone colors and shape may vary slightly from the picture, making this beautiful handmade item unique just like you!