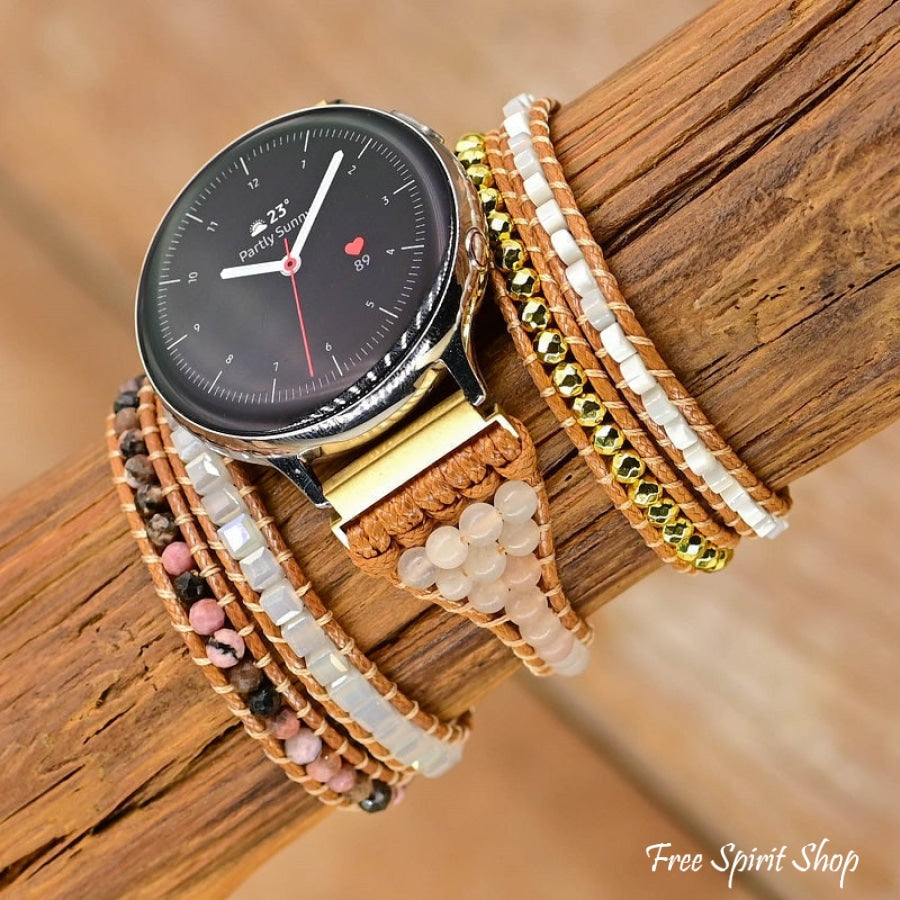 Natural Selenite Sunstone & Rhodonite Samsung / Garmin Watch Band
Size:
Small: 5.5-6.3 inch wrist
 This splendid Samsung watch band is beautifully handmade with Selenite, Rhodonite, Sunstone and mixed beads. Three sizes available: small, medium, large and each size is adjustable. Vegan friendly!
Also compatible with Garmin, Fossil and more smartwatches!
Pick your wrist size and watch connector size.
Samsung Galaxy 4 & 5 compatible with:
Samsung Galaxy 4

Samsung Galaxy 5
18mm compatible with:
Fossil Gen 4 - Venture HR
Fossil Gen 5E
Fossil Gen 6 (Womens)
Fossil Gen 6 - Stella
Fossil Sport 41mm
Garmin Forerunner 255S, Music
Garmin Venu 2S
Garmin Vivoactive 4S
Garmin Vivomove 3S
20mm compatible with:
Garmin Forerunner, 55, 245, 645
Garmin Move Style, Move Luxe
Garmin Venu, Venu 2 Plus
Garmin Venu Sq
Garmin Vivoactive 3, Venu, Trainer, Music
Garmin Vivomove 3
Garmin Vivomove HR 
Garmin Vivomove Sport
Garmin Vivomove Style
Samsung Galaxy Watch 3 (41mm)
Samsung Galaxy Active and Active 2 (40mm, 44mm)
Samsung Galaxy Watch (42mm)
Samsung Gear S2 Classic,
Samsung Gear Sport 
Samsung 

Galaxy Watch 4

Fossil Q Glazer
22mm compatible with:
Garmin Darth Vader/ First Avenger
Garmin Fenix Chronos
Hero Legacy 45mm
Garmin Runner 255
Garmin Vivoactive 4 (not compatible with the 4S)
Garmin Venu 2
Samsung Galaxy Watch 3 (45mm)
Samsung Galaxy Watch (46mm)
Samsung Gear S3 Classic, Frontier
Fossil Gen5 Carlyle / Julianna / Garret / Carlyle HR
Fossil Hybrid Smartwatch HR
Fossil Hybrid Smartwatch Neutra
Fossil Men's Gen4 Explorist HR
Fossil Sport 43mm
Xiaomi Color Watch
LG W100, LG W110, LGW150
Selenite crystals are high vibration stones that will move your spiritual growth forward quickly. Selenite is used for good luck and protection. Selenite is one of the few minerals that quickly absorbs and unblocks any stagnant energy, making it an essential healing stone for clearing a space or body of negative energies. The powerful vibration of Selenite can clear, open, and activate the Crown and Higher Chakras and is excellent for all types of spiritual work. Selenite can also be used to strengthen the memory as well as to promote fertility.
*Since gemstones are natural materials, stone colors and shape may vary slightly from the picture, making this beautiful handmade item unique just like you!