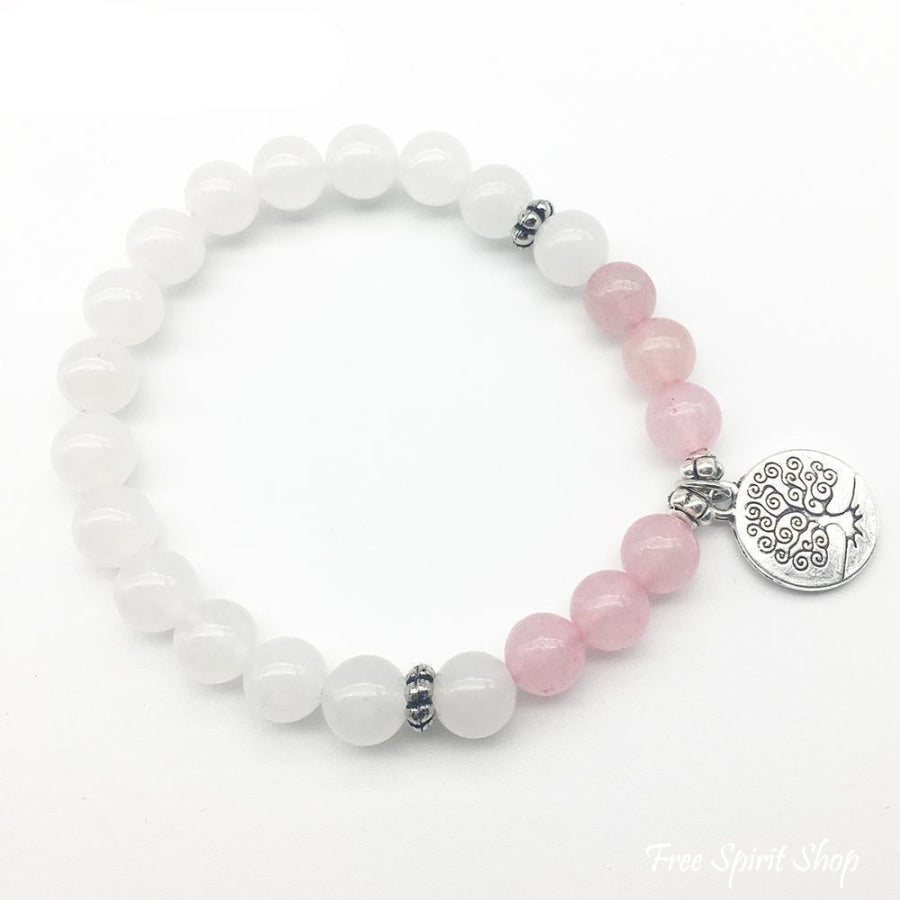 Natural White Jade & Rose Quartz Bead Mala Bracelet
This splendid mala bead bracelet is carefully handmade with natural genuine Rose Quartz and White Jade stone beads as well as a Tree Of Life charm. Length is about 19 cm. The charm represents the Tree of Life symbolizing wisdom, strength and protection.
Rose Quartz is the stone of unconditional love. One of the most important stones for Heart Chakra work, Rose Quartz opens the heart to all types of love - love of self, love of family, love of friends, romantic love. Because it is a type of quartz, Rose Quartz does have a high energy, but its vibe is also calming and soothing.The soothing energy of Rose Quartz fosters empathy, reconciliation, and forgiveness of others. Lowering stress and tension in the heart, Rose Quartz clears out anger, jealousy, and resentment of others, and allows healing of heart issues and dis-ease associated with holding on to such negative emotions
White Jade is a calming, grounding Nephrite jade that also protects the wearer from negative energies. It brings peace, harmony and luck.
The Tree of Life is a universal symbol found in many spiritual and mythological traditions around the world. In various cultures it is known as the Cosmic Tree, the World Tree and the Holy Tree. The Tree of Life symbolizes many things, including wisdom, protection, strength, bounty, beauty, and redemption. This wise and holy Tree is like the Creator as it sustains creation with its abundant fruit, protection and generativity.