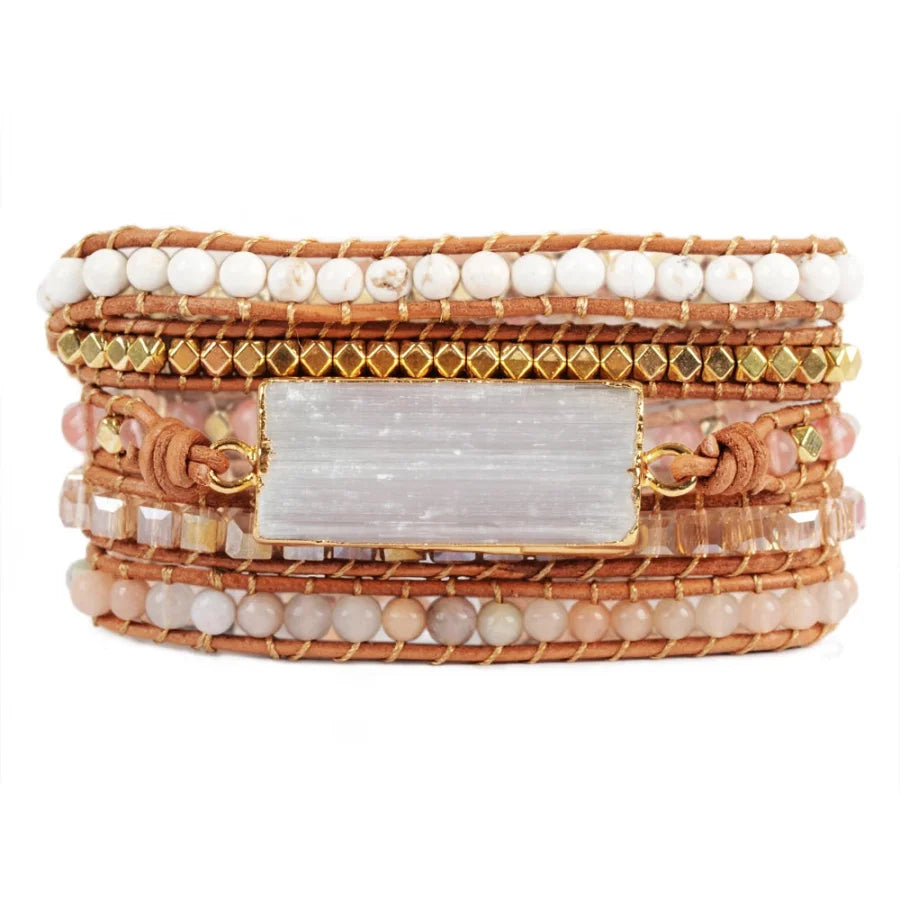 Natural White Selenite & Sunstone Wrap Bracelet
This wonderful bracelet is beautifully handmade with natural semi-precious Sunstone and howlite beads. It features a beautiful gold plated Celestine crystal center-piece. The wrap bracelet is made with genuine leather. The total length is approximately 83.5 cm (32 inches) and can be adjusted to our wrist size via the different 3 closures. 
♡ To our Vegan community: our gemstone wrap bracelets can be made with cord on request. ♡
Selenite crystals are high vibration stones that will move your spiritual growth forward quickly. Selenite is used for good luck and protection. Selenite is one of the few minerals that quickly absorbs and unblocks any stagnant energy, making it an essential healing stone for clearing a space or body of negative energies. The powerful vibration of Selenite can clear, open, and activate the Crown and Higher Chakras and is excellent for all types of spiritual work. Selenite can also be used to strengthen the memory as well as to promote fertility.
Sunstone is a gemstone that promotes positive energies and joy. It brings light into dark thoughts, clears negative energy and bring mental clarity. Sunstone is a gentle healing stone that promotes a warm and positive mindset while boosting self-esteem and vitality. It is a natural anti-depressant.
*Since gemstones are natural materials, stone colors and shape may vary slightly from the picture, making this beautiful handmade item unique just like you!
All our wrap bracelets can be customized with non-leather materials :) Please contact us at contact@free-spirit-shop.com with your order number after placing an order and we will be happy to make your bracelet(s) vegan.