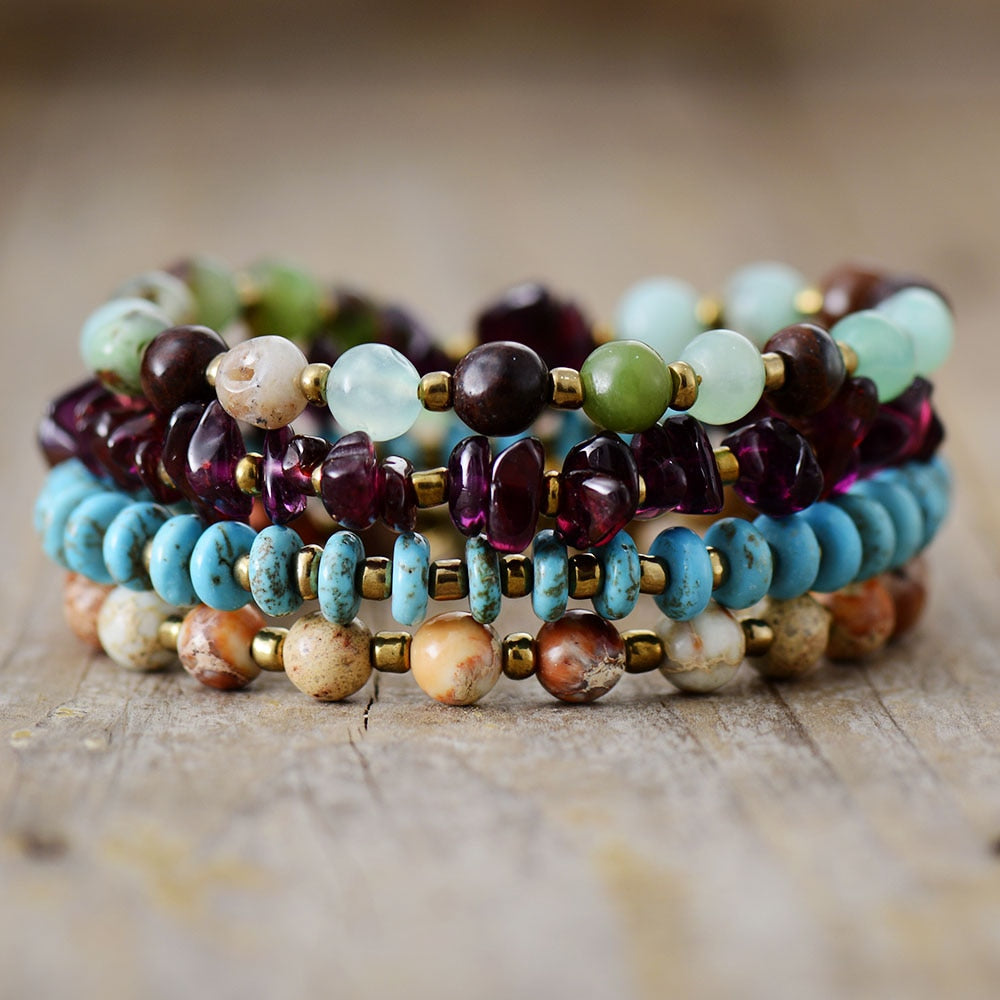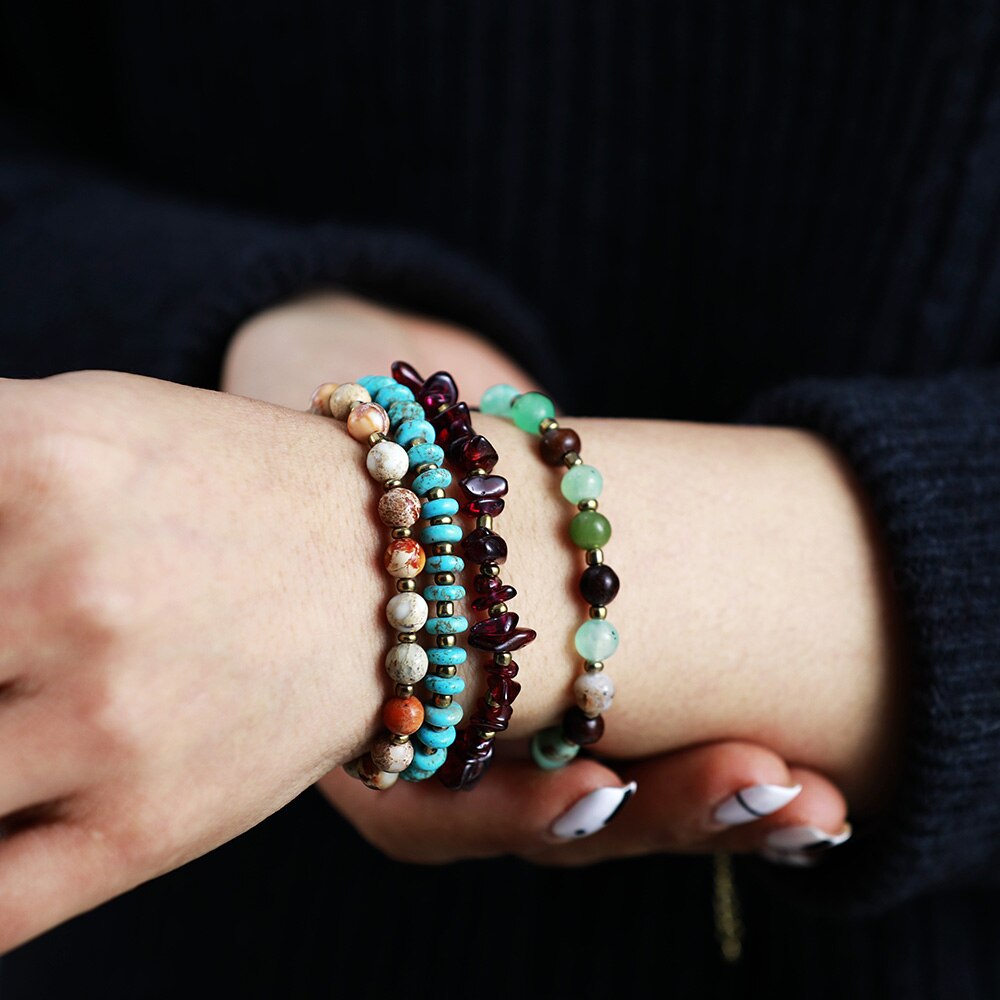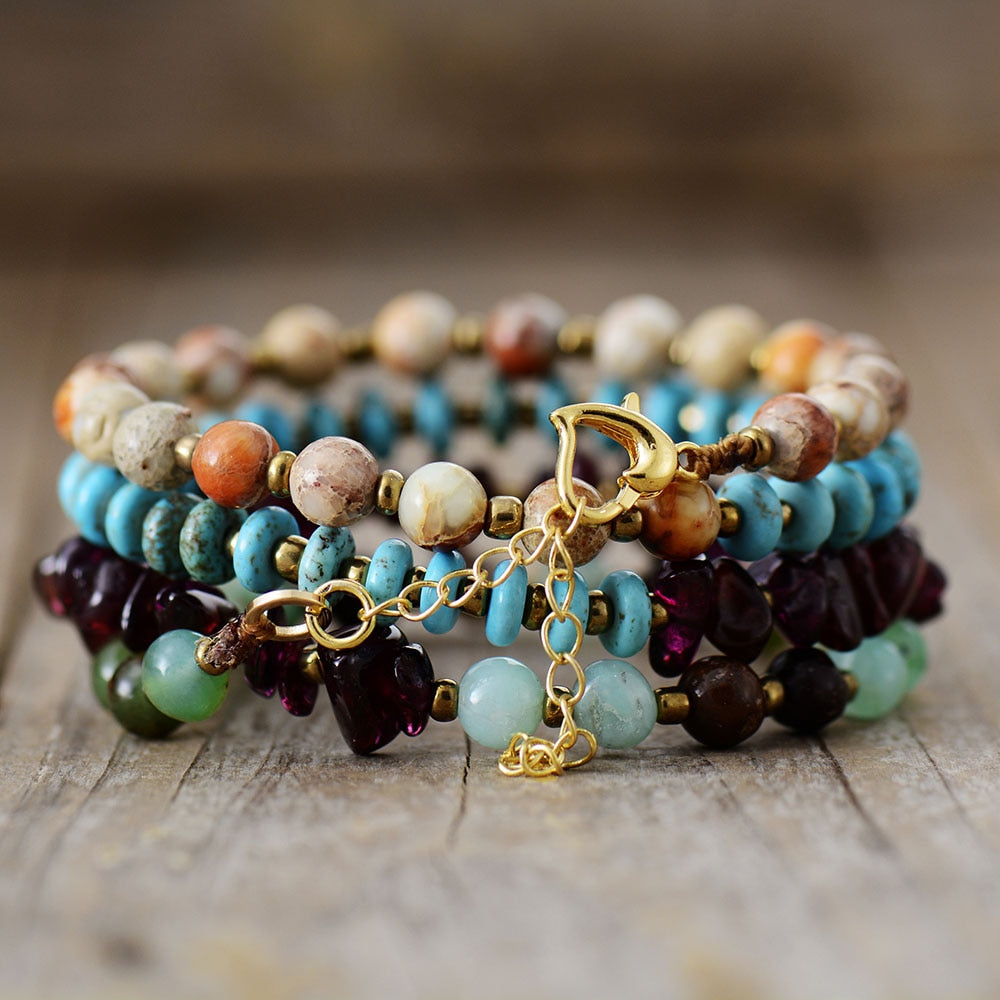 Turquoise Jasper Amethyst & Green Jade Multi-Row Bead Bracelet
This splendid multi-row beaded bracelet is carefully handmade with natural Amethyst, Turquoise, Green Jade and Jasper stone beads. This natural stone bead bracelet is mounted on elastic and can be worn as a bracelet or as a necklace. Length is approximately 27.5 inches (69 cms) + 2 inches (5 cms) for adjustment.  
Jasper is a very nourishing, warm and protective stone no matter what colour you find the jasper in - be it yellow, green, blue, purple or the deep earthy red. Jaspers are the nurturers, the healers and the spirit stones of courage and wisdom. They all carry a strong connection to the Earth's energy, making the jasper healing properties very beneficial for grounding, stability and strength.
Amethyst has healing powers to help with physical ailments, emotional issues, and in Energy Healing and Chakra balancing. Amethyst crystal therapies are primarily associated with physical ailments of the nervous system, the curing of nightmares and insomnia, and balancing the crown chakra. It is a powerful and protective stone that helps relieve stress and strain, soothes irritability, balances mood swings, dispels anger, rage, fear and anxiety. It calms and stimulates the mind, helping you become more focused, enhancing memory and improving motivation.
Turquoise has been used as a purification stone. It dispels negative energy and clears electromagnetic smog. This gemstone also provides protection against environmental pollutants. It balances and aligns all the chakras, attuning the physical body to the spiritual.
The healing properties of jade are very useful for emotional healing. The soothing energy from jade relieves irritability while helping to eliminate negativity. It's mainly considered as a symbol of serenity, tranquility, and purity. It's a stone that's believed to bring in good luck, friendship, peace, and harmony. The green jade is often used for cleansing and balancing the 7 chakras.